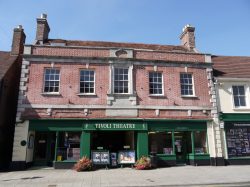 WIMBORNE Rep got off to a spectacular start with Joshua Ward's terrific production of A Bunch of Amateurs, on stage at the Tivoli Theatre.
Written initially as a screenplay by Ian Hislop and Nick Newman, the film (the Royal Command film for 2008 and much beloved of HMQ) was a box office and critical flop. Thank goodness Hislop and Newman adapted it for the stage.  It didn't fare a lot better at its professional debut at the Watermill, where one critic wrote " … with a nippier turn of foot, this could be an engaging evening's entertainment."
A nippier turn of foot was just what it had at the Tivoli. It's a very appealing story that turns expectations on their heads and challenges the cast at the same time as delighting audiences. Perhaps it's not ideal for metro-centrically patronising  critics and theatre goers, but there really is a lot more of England outside the M25.
A failing am dram soc is about to be turned out of its theatre, the last community space in a town that has lost its bank, its shop and its pub.
Director and chairperson Dorothy Nettle appeals to the population at an open meeting, but no-one turns up. The only answer is to get a star.
A plea to Hollywood results in the arrival of Jefferson Steel, fading star of an action-hero franchise. He thinks he's got a gig at Stratford-upon-Avon, not realising that England has a large number of Stratford's and the one where he's agreed to give his Lear is in Suffolk.
The script has been astutely adapted to bring in current situations and references, and the seven-strong DP cast has a ball.
It's not possible to mount a successful production without a charismatic actor in the central role, and here Mark Freestone shows all of his many talents in fighting, bombast, body shots and real, painful pathos.
Julia Savill, a Dramatic Prod­uctions regular and Wim­borne resident, captures the spirit of Dorothy to perfection. And the rest of the cast – Jessica LeighBrackstone, Alan Colclough, Rebecca Legrand, Rick Savery and Celia Muir – bring the Straford Players to vivid life. Director Josh Ward also provides the music and on-stage guitar playing, and it all makes perfect sense by the end.
It takes real skill to stop what is a play and make the audience question if they are witnessing a real rallying call, or to see a familiar Shakespeare play brought into personal focus in seconds.
Congratulations to all concerned.  I only wish I could see it again, and I am very much looking forward to the second and third plays in the rep season – Rising Damp and Love from a Stranger.
GP-W