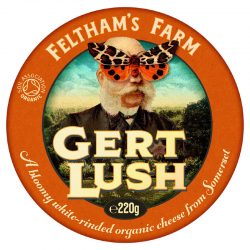 THE ever-inventive Marcus Fergusson at Feltham's Farm near Wincanton has produced an enticing addition to his range: a bloomy, white-rind organic cheese called Gert Lush, which came out just in time for Christmas and New Year cheeseboards.
As any Somerset person knows, "Gert Lush" is a dialect phrase meaning "really lovely" (lovely as in attractive), and with its delicious rind and creamy paste, this new companion for Renegade Monk, Rebel Nun and Fresca Margarita lives up to its name.
The best known bloomy white-rinded cheeses are probably camembert and brie.
The Gert Lush label has been created by artist and musician Jem Panufnik, whose striking designs bring a visual focus that has helped Feltham's Farm to develop its market not only in the UK but internationally, including the Netherlands, Canada, USA and France.
Feltham's Farm is a multi-award winning organic cheese dairy and smallholding in the Blackmore Vale. It aims to be as sustainable as possible, running on 40KW of solar panels and ground-source heat while all local deliveries are made in a 100% electric van. Oxford Sandy & Black pigs consume all the whey produced (making a very sweet parma-like ham) so there is minimum waste.
Awards to date have included Best British Cheese 2020 at the Virtual Cheese Awards for Renegade Monk, Rebel Nun (gold at Global Cheese Awards 2020), La Fresca Margarita (Best British Cheese at Virtual Cheese Awards 2021).