IN these long months of lockdown with foreign travel still a dream, those of us who love to explore, whether it's rural France, the American West or the Amazon jungle, have had to make do with films, newspaper articles and travel books.
Di Murrell has lived and worked on waterways in this country for most of her life. For the last 20 years she has also explored the rivers and canals of northern Europe with her husband Tam, in their barge, Friesland. She won awards with an essay, Food on the Move, and her book, Barges and Bread. Her second book, A Foodie Afloat, was published more or less into the pandemic, a hard time for all authors.
Part travelogue – it would be the most marvellous companion on a French canal trip, but is also simply a great read for any Francophile – and part cookbook, Di's latest book earns its place on anyone's bookshelves. You will read it, and then you will use it, and if you are driving (or sailing) to France you may well also pop it in a pocket and take it on your travels – and how many cookbooks can you say all that about?
As a food writer and keen cook, Di Murrell knows how to put a recipe together, and how to describe food that makes you want to cook it. And if you can't find purslane – required for her fattoush – you can adapt to what you have got, because that's what she does, when markets are miles away from the gentle wash of the canal against Friesland's sides.
The recipes are both endearing and mouth-watering –  as you would expect there is plenty of food that draws directly on the produce of the area the Friesland is slowly passing, but there are also familiar British dishes and family favourites, such as the shepherd's pie she remembers from early childhood.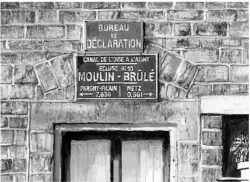 Canal paths and the countryside around are often rich foraging grounds, and Di tries many of the wild berries, herbs and leaves and semi-wild cultivated fruits and nuts she discovers – griottines (little sour cherries), wild garlic, sorrel, walnuts, peaches, elderflower, purslane … even truffles.
There are also special occasion dishes – a perfect roast duck, champagne risotto or a rich and decadent fillet of roe deer with foie gras.
There is a very useful section on store-cupboard essentials, English and French, and a good index. The cover design and lovely illustrations are by the Somerset artist Kathleen Caddick.
A Foodie Afloat is a real delight – you don't have to love France to enjoy it, although that helps, but if you love food, the idea of a life on the water, even just for a few days or a couple of weeks, and cooking  with what is in season and available, this is a book for you.
* A Foodie Afloat by Di Murrell, published by Troubador Books.