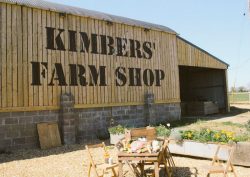 Updated Tuesday 28th April 6pm
ONE of the joys of living in a rural area, particularly in villages or small towns, is the sense of community that you are likely to find in a crisis such as the Covid-19 pandemic.
The majority of locals will know each other, and news travels fast. Most people are on at least nodding acquaintance with their neighbours and have close friends or family in the area.
What makes this crisis different from, say, floods or prolonged snow or even foot and mouth disease, is the lock-down. So we have been looking at food producers, farm shops and other suppliers, including those who are able to do local deliveries in the rural areas that we cover – Dorset, Somerset and Wiltshire.
If you aren't in isolation, support your local independent food businesses. Most towns and larger villages in this area have some independents – bakeries, greengrocers, butchers, general stores, village and community shops, delicatessens. Out in the country there are farm shops (see below).
Oxfords, one of the region's oldest established bakeries, has shops in Sherborne, Blandford and Sturminster Newton, and has now opened a drive-through shop at the 200-year-old bakehouse in Alweston. Visit www.oxfordsbakery.co.uk Wincanton has Lovington's Bakery, which, during the pandemic, is also selling milk, eggs and some vegetables. The chef is currently also making wild garlic pesto and look out for his fresh pasta, coming soon. There are Marshalls Bakery branches in Pewsey and Royal Wootton Bassett. Hobbs House Bakery has a shop in Malmesbury, but also supplies bread to a number of farm shops.
Greengrocers include Abbots at Shaftesbury, Wincanton Fruit & Veg (which also has a wholefood section), Sprout & Flower in Mere, Market Town Garden in Sherborne, Bridget's Market at Bridport, Root and Vine Greengrocers in Sturminster Newton, also have eggs and bird food and feeders and Minster Greens at Wimborne.
Butchers include Parsons at Sherborne, Michael's, the famous sausage-making butchers at Malmesbury, is open and offering free local deliveries,  Downers at Tisbury (which also has some veg), Andrew Barclay at Wincanton, RJ Balson (reputedly the oldest shop in the country) at Bridport, Brace of Butchers, which also has a deli and some veg at Poundbury, Pynes at North Petherton, the relatively newly opened Thoroughly Wild Meat Company shop at Castle Cary, Stuart Pearce at Blandford, Cayfords at Frome, Keatings at Wimborne and Holebrooks Fine Foods, butchers and deli in Sturminster Newton,  also working with Stur's Covid-19 Action Group run from Stour Connect, with other suppliers to provide food boxes for delivery.
Stalbridge has Dike & Son, an independent supermarket, which has an exceptional range of local food and drink products and also offers a free delivery service in the area (check out their website to see if your postcode is included).  www.dikes-direct.co.uk
All garden centres and nurseries are currently closed, but several are offering delivery services, when they are not inundated with orders.
They include PlantWorld in Milton on Stour near Gillingham, www.plant-world-seeds.com,  and Thorngrove Garden Centre, also near Gillingham, www.thorngrovegardencentre.co.uk. Otter Nurseries are offering a delivery service of mystery packs of flower and vegetable plants in the area around their centres. See the website, www.ottergardencentres.com.  The Gardens Group, with centres at Dorchester, Yeovil and Sherborne, is offering deliveries when the telephone lines are open. Visit www.thegardensgroup.co.uk and Orchard Park is offering a wide range of plants and products by delivery can be visited  https://store.bluediamond.gg
Oliver Dowding will deliver his apple juices and ciders. Email him on info@nullapplesjuice.co.uk or visit www.applesjuice.co.uk
Quite a few independent shops in these smaller towns are doing deliveries locally. These include not only food shops and newsagents, but also other important businesses, such as pet shops.
There are also a number of chefs offering take-away service from their restaurants – check out your nearest. If you are lucky enough to be near Cranborne, Mark Hartstone of La Fosse is offering a ready meal service on Friday and Saturday evenings.  www.la-fosse.com 
David Shepherd, chef-proprietor of La Fleur de Lys restaurant and hotel in Shaftesbury (which is shut because of the pandemic), is preparing food, either for collection or delivery. The website has the menus, plus a cheese-board, and details of what is available from Taylors of Bruton bakery.  www.lafleurdelys.co.uk
Margot Dimmer at Thyme after Time at Spire Hill, Stalbridge is offering weekend takeaways for collection or delivery. www.thymeaftertimecafe.com
Some farm shops are offering deliveries – often the first time they have done so. Most of these have a minimum order value. Most are open for their usual days, although some of the opening hours may change. Check out their websites for details.
Allington Farm Shop near Chippenham, family-run, wide stock including local cheeses; ring up and they will bring your order to your car; delivery to the most vulnerable and elderly in immediate area. www.allingtonfarmshop.co.uk
Ansty Farm Shop, on the A30 east of Shaftesbury, best known for their strawberries, rhubarb and other veg, milk station and home bakes. Bring your list, and staff will shop for you and bring to your car.
www.anstypyo.co.uk
Brinkworth Dairy, near Swindon; not a farm shop, but great dairy produce and Wiltshire Loaf cheese; have extended their local deliveries.  www.brinkworthdairy.co.uk
Dorset Blue Vinny at Woodbridge Farm, Stock Gaylard, is offering deliveries. The pop-up shop is open every day for food and store-cupboard essentials, and will soon be opening its own milk station. Call to check availability and place an order, 01963 23133  or visit www.dorsetblue.com.
Farleigh Road Farm Shop, near Norton St Philip, are offering deliveries. www.farleighroadfarmshop.co.uk
Felicity's Farm Shop at Morcombelake, sell their own meat and a vast selection of local food and drink.
www.felicitysfarmshop.co.uk
Gold Hill Organic Farm Shop, Child Okeford  www.goldhillorganicfarm.com
Gooseslade Farm Shop, East Coker  www.thegoosefarm.com
Jon Thorners of Somerset, famous for pies and meat, are doing deliveries to 22 postcodes.
https://shop.jonthorners.co.uk
Kimbers Farm Shop near Wincanton is offering deliveries in conjunction with Wincanton Fruit & Veg.
www.kimbersfarmshop.co.uk
Newton St Loe Farm Shop near Bath is providing a local delivery service for the vulnerable and over-70s.
www.newtonfarmfoods.co.uk
Olives et Al at Sturminster Newton has an online delivery service via its sister website, Loaf & Larder, offering a wide range of essential groceries. www.loafandlarder.com
Pamphill Dairy, farm shop and butchers, near Wimborne  www.pamphilldairy.co.uk
Pitney Farm Shop, Pitney near Langport  www.pitneyfarmshop.co.uk
Rawston Farm Shop and Butchery, Tarrant Rushton near Blandford  www.rawstonfarmbutchery.co.uk
Red Barn Farm Shop, Mudford, famous for their asparagus and Channel Island milk.
www.redbarnfarmshop.moonfruit.co.uk
Stourhead Farm Shop, meat from the National Trust's estate, and other local produce; coordinating volunteers for the area.  www.stourhead.com/shop/home.html
The Trading Post, Lopen near Ilminster, is offering a delivery service to the vulnerable and people who are self-isolating (free within five miles).  www.tradingpostfarmshop.co.uk
Udder Farm Shop, just west of Shaftesbury, is offering free deliveries for vulnerable customers who have noone to collect for them.  www.theudderfarmshop.co.uk
Washingpool Farm Shop at Allington near Bridport is asking shoppers to come to the shop if they can; they can do deliveries for people who are quarantined or in self-isolation because they are vulnerable. www.washingpool.co.uk
Whiterow Farm Shop at Beckington is offering some deliveries, and carries a huge range of fresh (often home grown) vegetables, meat, dairy and in-house bakery goods.  www.whiterowfarm.co.uk
You can find more information about local food producers who are open during the crisis on the Taste of the West food finder map.   www.tasteofthewest.co.uk
Somerset Farmers Markets has a helpful list of all producer members who are offering deliveries, click-and-collect and on line shops. Visit www.somersetfarmersmarkets.co.uk/news
These are not definitive lists. We would love to hear from any independent food shops, delis, farm shops, or other businesses, about your stock and whether or not you can make deliveries. We will help to spread the word.
Email us at info@nulltheftr.co.uk or you can tweet us @yourFTR
For other news on deliveries and help during the Covid-19 crisis see Isolational Ideas