WHILE our friend Joanna was working on a newspaper in a godforsaken, drought-stricken mining town in Queensland, she sent us a postcard of people doing a rain-dance. The message read: "Can Fanny come and organise a picnic, please?"
My reputation for ensuring wet and/or cold weather if I so much as say the word is so notorious that for many years I have hedged around with phrases like "al fresco meal" or "we could all bring food."
We have a photograph of the children at Stonehenge, taken in February 1979. Each of the three is peeping around one of the stones – a picture you cannot even take these days. The children – Patrick and Anna, mine, and Hannah, Gay's god-daughter – and the two of us and Hannah's mother, Chrissy, were having a picnic. It was very cold (and sleeting from time to time).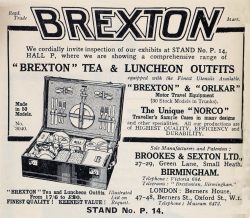 A few years later, one of the wettest Badminton Horse Trials in memory. We all remember helping to push an immensely heavy Jaguar out of the mud – eventually Gay persuaded the (somewhat intoxicated) driver to get out, taking his glass of brandy from the dashboard with him, so that she could drive while we pushed. We also remember the picnic – the rest of the party shivering in the cars, while Hannah's step-father and I got the food out.
Picnics have been part of both our lives from the earliest years, usually on the beach or in the New Forest. In those days, there would have been sandwiches (in which sand would be a major ingredient) and home-made cake, with a Thermos of tea for the grown-ups and lemon or orange squash for the children. It was all very simple.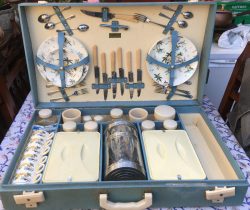 When Gay was little, her mother bought a smart picnic case, with flasks, sandwich and cake boxes, china teacups, saucers and plates, good quality cutlery, salt and pepper shakers and glass jars for sugar, jam or salad cream. The most remarkable piece is a wide-mouthed chrome Thermos flask, which keeps food piping hot for more than 12 hours and holds enough for soup or a one-pot dish for three people. We still have this case (see left), and we use the big Thermos regularly.
The hamper was made by Brexton, which served the motor touring market from the 1900s through to the 1960s. The name was a combination of Brookes and Sexton, based at 27-29 Green Lane, Small Heath, Birmingham and with a retail branch at Berners House off Oxford Street inLondon. The business catered to the freedom to take day trips or weekends away, enjoyed by the new breed of motorist.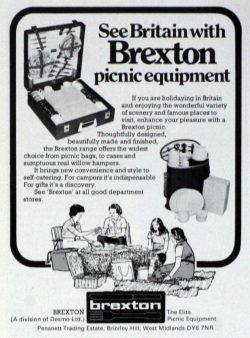 The advent of mass production, pioneered by the Ford Motor Company with the Model T before the First World War, made travel more affordable and the picnic set, in a smart Brexton case or a lined wicker basket, was an essential accessory in the well-equipped motor.
"I always think that we eat twice as much in the open air because food tastes so much nicer" – Enid Blyton
The 1920s are sometimes seen as the heyday of motoring. It was certainly the peak period for picnics. Fortnum & Mason produced outdoor feasts with lobster and champagne for up to 40 people, and Brexton made picnic sets specifically for Harrods. Inevitably there was a dip with the recession of the 1930s, followed by the Second World War, but outings to the coast and countryside were back in the 1950s. The company produced a special edition to commemorate the coronation of Queen Elizabeth II in 1953.
Brexton picnic sets were presented in smart suitcases, with china in patterns that reflected the style of the period – our set is South Pacific, an unmistakably 50s design. The neatly arranged china cups, saucers and plates were produced by Gray's Pottery of Stoke-on-Trent and there were spaces for the accessories – cutlery, beakers, food boxes, glass bottles and Thermos flasks.
Rexine, a new material at the time, was used to cover the outer case and consisted of a durable coated cloth resembling leather. Our set has a blue cover and there was a hot drink Thermos coated in the same fabric. Brextons today are highly sought-after – collectors scour e-bay to find items to complete their sets.
People have been enjoying food in the open air for centuries. The idea of an elegant meal eaten out of doors – rather than a farmworker's dinner in a field – was connected with a break during a hunt in the Middle Ages. What we would recognise as picnics happen in Shakespeare's pastoral comedies, Love's Laboours Lost and As You Like It. In the 18th and 19th centuries, picnics were elaborate social events that involved days of preparation.
The word comes from the French, pique-nique, first recorded in the 1692 edition of Origines de la Langue Française. The term was used to describe a group of people dining in a restaurant who brought their own wine and for many years the idea of a picnic was a meal to which everyone contributed something. The word picnic first appeared in English in a 1748 letter from Lord Chesterfield, who associated it with card-playing, drinking and conversation.
"After a short interval [Ratty] reappeared staggering under a fat, wicker luncheon-basket.  … 'What's inside it?' asked the Mole, wriggling with curiosity. 'There's cold chicken inside it,' replied the Rat briefly; 'coldtonguecoldhamcoldbeefpickledgherkinssaladfrenchrollscresssandwichespottedmeatgingerbeerlemonade sodawater—'  'O stop, stop,' cried the Mole in ecstasies: 'This is too much!'" – Kenneth Grahame
As we come out of lockdown, but with no country pubs open, picnics are important. We prefer quiet (mostly inland) places, rather than the crowded coast, and we take our lunch or tea with us – cold drinks with perhaps asparagus quiche, apricot and almond flapjacks or a slice of bread pudding, things that can be eaten with fingers.
Picnic food has many different styles. If we are packing food for a journey, it will be straightforward – sandwiches, perhaps crisps, and a piece of fruit cake, flapjack or shortbread, something easy to eat, not needing plates or cutlery. If it's supper in the car before the theatre or a concert, say, at the Barbican, it has to be something sustaining, a one-pot dish kept hot in the vintage Thermos, to be eaten in bowls, with spoons. If it's a day out in the country, it will be a proper sit-down, with a rug, perhaps a couple of folding chairs, plates, unbreakable "glasses," cutlery, fresh bread, a main dish and a pudding.
Our favourite picnic story happened at Glyndebourne. It was the first time we had been to the opera festival, and we were there for a performance conducted by a friend. We took our picnic, with a rug to sit on and a bottle of champagne. At the long interval, we found ourselves surrounded by Glyndebourne regulars, with their lavish spreads, served on tables set out on white linen tablecloths and butled. It would be no exaggeration to say that they looked down on us, from the lofty height of their chairs  …
… until the conductor joined us, shared some food, enjoyed a glass of bubbly and headed back for the rest of the opera. Our fellow opera-goers were suddenly all over us, oozing friendship, ingratiatingly asking how was the "maestro?" (with unfeasibly stretched vowels) etc, etc. We smiled and made no comment. Later the three of us had a giggle over supper in a quiet family restaurant in Lewes.
Here's a selection of some of the favourite picnic food we have enjoyed over the years:
Tomato or cucumber and mint cheesecake
Asparagus or leek and St Nectaire (or Brie) quiche
Tabbouleh
Hummous
Whole roast chicken (hot or cold)
Crab cakes
fSoups (leek and potato, squash, beans and chilli)
Chilli frankfurters and linguine or chicken in tomato and basil sauce with fusilli (in the big silver thermos, of course)
Chocolate biscuit fridge cake
Orange and almond cheesecake
Pictured: Our almost-complete Brexton picnic set,  with the chrome Thermos in pride of place;
A 1929 Advert for Brexton Tea and Luncheon Outfits; Brexton and Orlkar Motor Travel Equipment;
See Britain with Brexton, an advertisement from the 1950s;
The Picnic, by Thomas Cole, The Picnic, 1860;
Perhaps the most famous picnic in art, Manet's Dejeuner sur l'Herbe.