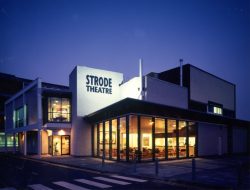 THERE was understandable joy at Strode Theatre, Street, when the Culture Secretary announced the list of venues and organisations which would be receiving grants from the government's Covid-19 Culture Recovery Fund.
Strode Theatre, which has been closed since the lockdown started in March, has been awarded a grant of £246,911.
General manager Robin Peters, who had only been in his post for a few months, welcomed the news of the grant from Arts Council England, as part of the Department of Digital, Culture, Media and Sport Culture Recovery Fund.
For the first few weeks, Robin and his small team organised a programme of online events, streaming national and international concerts, operas and theatre as well as local events. But for several months now the theatre has been effectively mothballed.
He said: "The grant means we can use this period of closure to make changes to our business model, re-build reserves and ensure that when we open again in 2021, everyone in our community knows that Strode Theatre is here for them, and #HereForCulture."
There will be more news of plans and developments for the theatre in the coming weeks. Robin added: "For now, a huge thank you to everyone who has supported Strode Theatre through turbulent times."