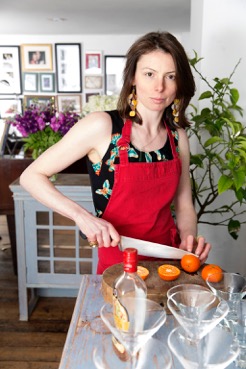 SHAFTESBURY-based chef Philippa Davis was part of the Liberty Kitchen team who won the Street Food Award in this year's BBC Food and Farming Awards, which were announced in Bristol.
Liberty Kitchen is a street food project which was set up about 18 months ago to help reduce reoffending rates and provide a chance for positive change, Founded by Janet Boston, the project creates an exciting range of street food which is sold at London markets and at private and public events.
The aim, says Philippa, is "to give the men a chance for change." Liberty Kitchen is based in HMP Pentonville. The food is made and sold by prisoners and ex-prisoners who learn to cook and get the chance to take catering qualifications.They design and produce a London-inspired menu of "Ball And No Chain" meat, fish and vegan balls with appropriate accompaniments. All the recipes are created by the men to reflect their own backgrounds.
The judges for the Street Food Award category were looking for "Street level cooks selling great value, freshly made meals, using good quality ingredients." The other finalists for the award were Homebaked, a community bakery project in Liverpool, and The Cod Scallops, based in Nottingham. For more information on Liberty
Kitchen, visit the website www.libertykitchen.org
Philippa Davis, who works as a private chef cooking around the world for various high profile clients, is the food writer for The Field Magazine, writes restaurant lists for House and Garden online and creates the recipe section for the Deepest Books series (Deepest Dorset, published in 2016, Deepest Wiltshire, published in March this year, and Deepest Somerset, which will be published next year). She is also a restaurant and food consultant and helped set up and provides support for Liberty Kitchen.