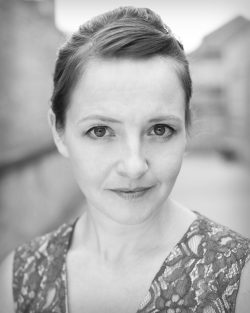 BELINDA Evans, the soprano who was born and brought up in Martock, famously sang the National Anthem at the triumphant Rugby World Cup in Australia in 2003 and has forged a career as a soloist, teacher and singing actress, comes home to Somerset in October.
She comes to Bridgwater from 12th to 20th, as part of the Garsington Opera for All project, introducing the joys of opera to young people in remote coastal areas. We may not think of Bridgwater as coastal, but its wide Parrett estuary justifies the description, so the town takes its place with Grimsby and Skegness in the three-year educational project.
This year's opera is Handel's Semele, which was filmed at Garsington during its summer run. The film is shown to participants, some as young as six years old, and workshops are organised with leading professional composers, directors and performers.
Belinda, who now lives in London, has been involved with the project for two years. She was in Somerset during the summer for the first meetings of the ten-day residency, and returns  to work with primary and secondary school pupils on their own impression of the opera. At the end of the sessions they will create their own work, to be performed in Bridgwater on 19th and 20th October.
"Many, probably most, of the young people have never listened to or seen opera. They have all sorts of ideas about it. They say things like 'It's people singing very loudly', 'there are big orchestras' or 'there are lots of high notes.'
"Then you get them to stand close to you as you sing, and they are amazed. They say 'my whole body tingled' as they feel the vibrations," says Belinda.
Last year's Garsington opera chosen for the project was Tchaikovsky's Eugene Onegin, and that was approached from a very modern perspective.
The director and singers asked the youngsters to think about how they would tell someone that they liked them. The discussion took in Snapchat and Facebook and "liking" and "friending" people, as they listened to the famous (and best known) Letter Song in the opera. Suddenly they understood how the opera was relevant to them.
This year they will look at the themes in Semele, which include the dangers of being a beautiful young woman and the appalling behaviour of powerful men (or the Gods as they are here). Belinda and her baritone partner Robert Gildon will sing some of the most tuneful and familiar arias. From that, the participants will create their own work.
On Thursday 19th October there is a free  Introduction to Handel's Semele and Opera Highlights at Bridgwater Arts Centre – booking is essential.
Belinda and Robert will present an introduction to Handel's Semele – described as a love story with a twist. The god Jupiter is captivated by the all-too-human Semele and entrances her with his promises. She exults in everything Jupiter has to offer but in this parable of over-ambition and over-indulgence, Semele flirts with danger and suffers the consequences.
The audience will get to enjoy Handel's wonderful music and will even have the opportunity to learn a short chorus from the opera, to sing along with the Garsing­ton team.
After the interval, the singers will perform a range of opera highlights – well-loved, familiar songs that you may have heard before without realising that they were originally composed for an opera!
Peter Taylor will narrate the concert, which  starts at 8pm. For more details, telephone 01278 422700 or visit the website, www.bridgwaterartscentre.co.uk
The following day the singers join with participants for a gala in the splendid McMillan Theatre on the Bridgwater College campus.
"It is such an exciting project to be involved with," says Belinda, who has a full programme of concerts in her diary, including  at the Guards Chapel, where she is a regular performer.
"The young people are so creative, and express themselves in unexpected ways when they feel safe in a space where they are not judged.  It is so rewarding, and wonderful to be home in Somerset."