DEVON-based sculptor Bridget McCrum, who had work in the opening exhibition at Messums Wiltshire, returns to the arts centre in the 700 year old Tisbury tithe barn from a solo show from 15th July to 6th August.
The Road Less Travelled is a selection of recent work by the artist, who was born in 1934 and lives and works in Devon and Gozo in Malta.
She studied at Farnham College of Art, training as a painter with Lesjek Musjynski, in the 1950s. She came to sculpture in her 40s and from 1980 began to work primarily in stone, having learned her craft from John Joeku and Andrea Schulewitz on the South Downs.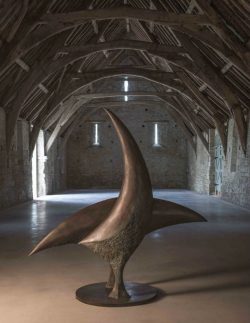 Solo exhibitions include One Canada Square, Canary Wharf, and several at Messum's, London, Her work is included in many international collections including: Minnesota Landscape Arboretum, Rolls Royce Aero Engines, Bristol, Lismore Castle, Co Cork, and the Golden Door Foundation, San Diego, and in private collections in the USA, Canada, the Middle and Far East, Europe and the UK.