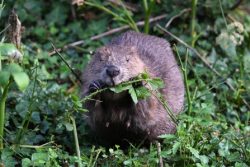 THE latest talk in the Help Our Planet series at the Marine Theatre, Lyme Regis, focuses on the return of beavers to English rivers for the first time in many centuries.
Rewilder, farmer and conservationist Derek Gow's HOP talk, on Tuesday 12th October at 7pm, is called Bringing Back the Beaver and its Pals.
Gow has played a significant role in the reintroduction of the Eurasian beaver, and the white stork in Britain. He is currently working on a reintroduction project for the wildcat and a project to save the water vole from threatened extinction.
His book, Bringing back the Beaver, has become a best-seller described in reviews as a beautiful, profound, important and consoling book.
Born in Dundee in 1965, he left school when he was 17 and worked in agriculture for five years. Inspired by the writing of Gerald Durrell. He jumped at the chance to manage a European wildlife park in central Scotland in the late 1990s before moving on to develop two nature centres in England. He now lives with his children, Maysie and Kyle, on a 300-acre farm on the Devon/Cornwall border which he is rewilding.
Featuring world leading scientists and writers, all are welcome at the monthly HOP Talks. The events centre on environmental issues, emphasising positive solutions for the individual.