GARETH Machin, the artistic director of Wiltshire Creative, has adapted one of Beatrix Potter's lesser known stories, The Tailor of Gloucester, for the 2019 Christmas show in Salisbury Playhouse's Salberg Studio from 9th to 28th December..
Gareth, with composer Glyn Kerslake, has previously created Salberg winter shows, The Night Before Christmas and Little Robin Redbreast, both obviously directly related to the festive season.
So why did he chose Beatrix Potter and particularly The Tailor of Gloucester, for this year's show? Gareth talked to Lucy Rouse, the communications officer of Wiltshire Creative.
"We were looking for one more story with the same qualities of anticipation and the excitement of Christmas that children love. We were drawn to The Tailor of Gloucester for that reason, rather than because it's a Beatrix Potter story, although of course children love animals and the cosiness of Beatrix Potter's world. It's the same with Agatha Christie, there's a real interest in reimagining those stories in a more contemporary way. That's why we've had the different versions of Peter Rabbit through a contemporary lens. Our version of The Tailor of Gloucester is more traditional but it is a fresh retelling of the story."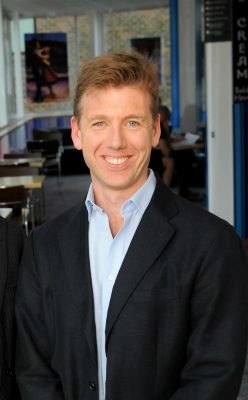 Gareth lived in Gloucester as a teenager and used to leave his bicycle outside the tailor of Gloucester's shop by the Cathedral: "I was very aware of Beatrix Potter as a figure. There was a museum there and her figures are very prominent in Gloucester. My son has been enjoying the retellings of Peter Rabbit."
The enduring appeal of Beatrix Potter is that she creates worlds in which children feel safe, with memorable characters who children can relate to. And they are good stories, says Gareth: "Enough happens to keep children engaged. There's also humour and a sense of play and fun in her stories."
This being a Christmas show, there is also plenty of music: "There's a big moment where the cat Simpkin is being tormented by the other animals on the night before Christmas and in the book that's all done through song and traditional rhymes. The bells of Gloucester also feature, so there was the beginning of a musical world that we could latch on to.
"Simpkin the cat is a wonderfully naughty character and that gives the opportunity to undercut the potential sentimentality of the piece. Children like to see bad behavior on stage and whoever is behaving badly realising they've done wrong and making amends so that's useful. It's a heart-warming story with a very simple moral.
"The opportunity to create something very theatrical is there because there are a lot of animals: mice, birds, fish at one point. So there's an opportunity for puppetry which is something we haven't done in our other shows."
The Christmas show for young children is really important, says Gareth: "There are a lot of young children in Salisbury so there's a big audience to reach. As brilliant as panto is, over the last few years it's got louder and young people can find it a bit of an assault on the senses both in terms of the sound and visually.
"There's also something else about the space. It's very different sitting in the Salberg with 150 people from sitting in the main house with 500, which can feel overwhelming. You're closer to the actors, the actors interact with the children, it's a very different experience. Even some older children find the quieter, smaller experience more engaging."
Gareth says grandparents often bring grandchildren to the Christmas show, and in the tailor he has created an older character who can relate to children in a slightly different way from parents.
Glyn and Gareth start the process of creating the Christmas show by "kicking titles around" and pitching different ideas. Then Gareth writes a synopsis with suggested song placements. "That goes through a couple of drafts until we feel we have a solid story and an idea of the songs. I then write the script and I write what each song is going to do, and get the voices of the characters going.
"Once we're happy with the script, we go back to the start and work on the songs. We work out what kind of song it's going to be. With this show Glyn had a lot of musical ideas already. There are usually one or two songs where we struggle. They tend to be the simpler songs. The participation songs are tricky because they have to be so simple and it's difficult not to make them sound like every other participation song you've heard. It's really hard being simple, musically and lyrically."
The special magic of a Christmas show includes the audience participation, the opportunities for a young audience to feel they're making a difference to how the story turns out.
Gareth says: "It needs to be no longer than an hour. It needs charming songs that work on two levels: great tunes with simple ideas but also jokes and witty lines that keep the parents engaged; sympathetic characters with lovely actors who can represent those characters. There needs to be magic in the set. Dancing, seeing the characters move around. And snow. There needs to be snow."
The Salberg Christmas show is a signficant investment for the company, but one which Gareth believes is important: "It's hard financially making work for this age group, the performances are short and ticket prices aren't high so we subsidise these shows. But it's really important to be able to offer a higher quality theatrical experience to this age group."
For more information and tickets visit www.wiltshirecreative.co.uk