THE 2022 World Cheese Awards, organised by the Gillingham-based Guild of Fine Food, will take place in Wales at the beginning of November.  This year's awards were due to be held in the Ukrainian capital, Kyiv, but the Russian invasion has inevitably made that impossible.
The decision to relocate to Wales is supported by the Welsh government. Judging will take place at the International Conference Centre at Cardiff.
It's not the first time that the Guild of Fine Food has visited Wales. Some years ago, the Guild had a week-long visit to Cardiff for Great Taste Award judging, and a few years later there was a Great Taste week at Llandudno in north Wales.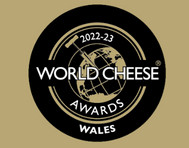 Wales has a lively local food scene, supported by the Welsh government and the two previous visits have been a chance for the country's chefs and food producers to showcase their talents and excellent Welsh food and drink.
A statement from the Guild said: "The Guild of Fine Food, organisers of World Cheese, will be working hard to ensure that our support for the cheesemakers of Ukraine is continued this year and beyond. It is a postponement, rather than a cancellation."
Entries for the 2022 cheese awards close on 20th September.