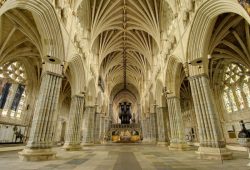 EXETER Philharmonic Choir tackles one of the great challenges of the choral repertoire, Elgar's The Dream of Gerontius, for its summer concert, at Exeter Cathedral on Saturday 6th July at 7.30pm.
This majestic and deeply spiritual work has been organised by conductor Brian Northcott to celebrate his 75th birthday. It will be performed jointly by Exeter Philharmonic Choir, Exeter University Chapel Choir, St David's Singers and Exeter Symphony Orchestra.
The soloists will be tenor Thomas Hobbs mezzo Madeleine Shaw, and bass Tim Murfin.