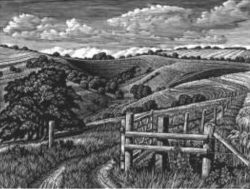 WORK by some of the finest British engravers is on show in Cutting It Fine: The Art of the British Wood Engraver, at Salisbury Museum, until 16th January 2022. There is a second exhibition featuring work by Howard Phipps, one of the greatest living wood engravers, who lives just outside Salisbury.
Though printing onto paper from wooden blocks goes back many centuries, wood engraving is a relatively new technique, generally credited to the Northumbrian craftsman, Thomas Bewick (1753–1828). With tools traditionally used for metal engraving, Bewick achieved extraordinary levels of precision and detail, achieving considerable fame with his carefully observed and illustrated books of birds and animals.
Widely used as a method of mass-producing images in the 19th century, wood engraving was revived on a more intimate, personal scale by a number of fine artists and designers in the early 20th century. This led a group of British artists to found the Society of Wood Engravers in 1920.
Drawn almost entirely from a private Dorset collection, the Salisbury exhibition showcases more than 120 original prints – as well as many rare original illustrated books – by 20 of the leading British wood engravers of the last hundred years. They include Gwen Raverat, Eric Ravilious, John and Paul Nash, Leon Underwood, Rachel Reckitt, Gertrude Hermes, Monica Poole, Anne Desmet and Neil Bousfield.
The accompanying exhibition explores the work of Howard Phipps, RWA, ARE. Born in Wales in 1954, Phipps studied Painting and Printmaking at the Gloucestershire College of Art in Cheltenham. His work is deeply rooted in the beautiful downland landscape of Wiltshire and Dorset. Phipps created the cover illustrations for all three Deepest books (Dorset, Wiltshire and Somerset – www.deepestbooks.co.uk).
Both exhibitions will be accompanied by a series of lectures, together with engraving demonstrations led by Howard Phipps. Original prints and books will be available for sale in the museum shop.
Pictured: Howard Phipps, Malacombe Bottom, and  Eric Ravilious, Sagittarius, 1929.