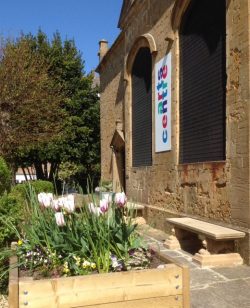 THERE is some sad news from Ilminster Arts Centre, where the lockdown and Covid-19 crisis has resulted in a decision to make all paid staff redundant.
A statement says that difficult decisions are having to be taken for the future of the arts centre in Ilminster's historic Meeting House: "The challenges include the fixed costs of managing the impressive building and the loss of revenue with closed doors."
The arts centre hopes to open up again soon with the required social distancing, run initially by volunteers. The cafe, gallery and craft shop will be operational together with some workshops to bring in vital revenue to this essential community facility in the heart of Ilminster.
The arts centre provides a wide range of activities for Ilminster and the surrounding area, including exhibitions, great coffee, a craft shop, workshops and music from folk to jazz to classical.
New trustees are sought, as well as more volunteers and new ideas. If you would like to get involved please get in touch on info@nullthemeetinghouse.org.uk