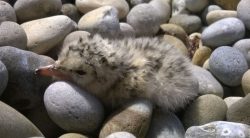 THE Royal Society for the Protection of Birds has thanked members of the public for their generous support of a fund-raising appeal to run the annual Little Tern Recovery Project at Chesil Beach this summer.
Each year from April to August the project protects Chesil Beach's Little Tern colony from predators and disturbance, to give the chicks the best chance of survival. The annual cost of £17,500 is normally funded via grants, but this year only £4,000 had been offered. Through a combination of a Just Giving appeal and a generous individual donation, the cost has been secured.
The Little Tern Recovery Project has been running for ten years as a partnership between the RSPB, Chesil Beach and the Fleet Nature Reserve, Crown Estate, Dorset Wildlife Trust, Natural England and Portland Court Leet.
RSPB conservation officer Kevin Rylands says: "The success of this appeal shows how much these special birds mean to people."
By 2009, the Chesil Beach little tern colony had dwindled to a handful of birds and for the first time in living memory, no chicks were hatched that summer – the colony was at risk of being lost. The Little Tern Recovery Project was launched to save Chesil's iconic bird. Within one year, nine chicks fledged, the highest success rate since records began in 1976. By 2017 the recovering colony produced 73 fledglings.
Pictured: Little tern chick, photograph by Morgan Vaughan