THE arts are essential for our morale, our mental health, our wellbeing and for bringing us together and are needed now more than ever. A group of Dorset arts organisations has set up an emergency fund to help freelance artists who are facing the complete collapse of their income as a direct result of the pandemic and the lockdown.
With cultural buildings such as theatres, galleries, cinemas and music venues closed, although the lockdown is being eased in some aspects of life, and with outdoor festivals and gatherings cancelled or postponed until next year, performers and artists are facing the hardest of hard times.
Emergency funding has been made available through government-backed schemes, but many artists who lost their livelihoods overnight are falling through the cracks.
The Portland-based b-side festival has brought together many of Dorset's arts organisations to launch a crowdfunder campaign to raise money to meet urgent short-term financial needs.
As well as b-side, the Dorset (& Bournemouth, Christchurch and Poole) Artists' Emergency Fund is supported by Activate Performing Arts, Arts Development Company, Artsreach, Bournemouth Arts by the Sea, Diverse City, Dorset Music Hub, Lighthouse, Poole's Centre for the Arts, Opera Circus, Pavilion Dance South West, SEAFAIR, SoundStorm, Wave Arts Education.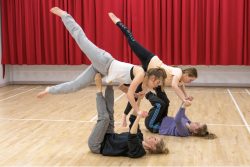 "Since lockdown on 23rd March the delivery of creative work in the arts sector has come to a standstill," says Molly Scarborough, b-side's youth programme co-ordinator: "Many freelance artists are not covered by existing financial aid packages because they are not supported by public funding, are too commercial, don't have premises, or haven't been trading long enough to make a claim, yet they still have to pay for essential living costs. This fund is to help balance cash flow when money is tight and tide people over until they can get further support."
The fund is for all Dorset-based artists, including (but not limited to) visual artists, musicians, comedians, performers, directors, actors, writers, filmmakers, theatre makers, producers, curators, clowns.
To apply, artists must be aged 18 or over, have a bank account and be unable to pay for essential living costs because of the loss of freelance income. Grants of between £100 and £500 are available. If you're in financial hardship you can apply here:
https://bit.ly/dorset-artist-emergency-fund
The Hardship Fund has been set up with contributions from arts organisations, but your donation is important, too – you can support the campaign here: https://www.crowdfunder.co.uk/dorset-artists-emergency-fund
It is hoped that many of the people who would have been buying tickets to shows and attending many of the free arts events that take place in Dorset will donate to the fund.
Elspeth McBain, chief executive of Poole's Lighthouse Centre for the Arts, says: "The situation that the arts and cultural sector faces during and post pandemic is deeply worrying and while we are very concerned about the future sustainability of venues, Lighthouse is acutely aware that many of the individual arts practitioners whose work populates our theatres, concert halls and galleries are in a desperate position having lost their livelihoods while venues such as ours are closed.
"We are relieved that some of those Dorset artists who are in most need will be helped through the new Dorset Artists Emergency Fund which has been set up by the cultural organisations in Dorset and the BCP regions and Lighthouse is pleased to be one of many partners supporting this.
"However we need many others to contribute and would urge people and organisations/companies to help our local artists get through this tough time and continue to provide their creativity to our region by contributing to the crowdfunder."
The fund is open for applications and the deadline for all applications is midnight on Friday 19th June.
Pictured: A Dorset Youth Dance workshop, photograph by Mike Petitdemange; Dorset Moon at Nothe Fort, in 2019, Ivor Toms Photography.