ARTSREACH, Dorset's rural touring arts charity, and Poole's Lighthouse arts centre have jointly commissioned Dorset-based composer Karen Wimhurst to create a Song for Dorset, as part of a nationwide project responding to the impact of the Covid-19 pandemic.
The aim of A Song for Us is for leading music creators across genres to write new songs inspired by the people of their county, recognising the positive role community choirs and ensembles play in keeping people connected. The commissioned song will be written for and performed by local choirs this July and available online as a film for up to 12 months.
The Dorset project brings Sound UK, Artsreach and the Lighthouse together for the first time to co-commission Karen Wimhurst to create a new song inspired by the people of Dorset and their perceptions of this historic time.
The song will explore the theme of time in lockdown and to help shape the lyrics, audiences are being asked to complete a short online survey that will enable Karen to get a sense of how people feel about the events of the last year.
"We are so excited to be taking part in this project and to be giving our audiences an opportunity to share their lockdown experiences with us and each other," says Perdie Bargh, the Lighthouse creative engagement officer. "In Dorset, as everywhere, we've all had such different experiences of this past year and we'd like to commemorate this time with a song that everyone can enjoy and appreciate as their own."
Yvonne Gallimore, co-director of Artsreach, says: "Over the last year, more than ever before, people living in rural communities have experienced greater isolation, separated from friends, family and the things they love. A Song for Us gives those residents the opportunity to make their voices heard through the power of song and mark this moment in history with a positive legacy for the county."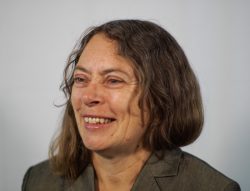 Other composers and music-makers commissioned for A Song for us are This Is The Kit & Bucky at Bristol), Gavin Bryars in Yorkshire East Riding), Skinny Pelembe for South Yorkshire), Seth Lakeman for Devon and Gwenno in Cornwall. The project will expand across the country, commissioning another nine composers through regional partnerships, to be announced in Spring 2021. These additional new songs will be premiered each month from June 2021 to March 2022.
The songs will form part of a growing music map of the country to mark this challenging time. The public can share a favourite song that holds special meaning from this period on asongforus.org. Budding songsmiths anywhere are also invited to create and upload original songs that capture their experience of the pandemic.
Since the map's launch, on 25th January, people from Penzance to Glasgow have shared a vast range of songs from Soul II Soul's Back to Life to Talking Heads' Once in a Lifetime.
To take part, simply click on this link below and complete the short survey, sharing your experiences of time in lockdown and over the past year – https://forms.gle/J9LxxEJAeRtpMNBT8