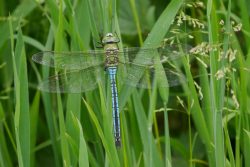 SPECTACULAR Emperor dragonflies are emerging from the ponds at the National Trust's Tyntesfield estate during late May and early June each year.
Emperor dragonflies (Anax Imperator) are Britain's largest dragonfly species, with a wingspan of up to 10cm, and up to 100 new adults will shed their underwater skins and take off from the water.
The dragonfly catches and eats its prey in mid-air and does not land often. Males, which are naturally aggressive, have a bright blue abdomen and bright green thorax, females tend to be green all over. These dragonflies stay as larvae for 1-3 years, and will moult several times underwater as they grow. The final moult takes place above the water on nearby vegetation. The new adult dragonfly will live for around 10 days, returning to the pond to mate.
"It's a really exciting time for us down in the walled garden during dragonfly season," says Lisa Topham, the trust's outdoors manager. "Dragonfly emergence usually happens on the riverside, so Tyntesfield provides an amazing opportunity to see the entire dragonfly lifecycle up close."
Pictured: Adult dragonfly – National Trust © Steve White