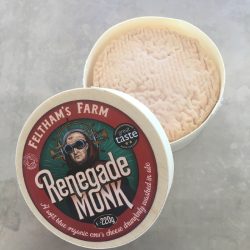 RENEGADE Monk, a washed rind artisan cheese made by Marcus Ferguson of Feltham's Farm, at Horsington near Wincanton, was awarded the Best British Cheese accolade at the inaugural Virtual Cheese Awards on 18th July,.
More than 300 cheeses were entered in the all-day event, which was viewed by an audience of more than 3,000, and judged by a panel of experts. The winners were chosen from 30 cheeses across seven categories.
The prize for the Best British Cheese winner includes £4,000 worth of coverage in Speciality Food and its sister consumer title, Great British Food.
Marcus said:"Winning this award is huge for a tiny artisan producer like us. We sold our first cheese in March 2017 and last year sold just 6,000 cheeses. We are profoundly grateful for the exposure that the Virtual Cheese Awards has brought us and many other artisan cheese producers – we all need all the help we can get right now and we hope that the awards will encourage the public to keep buying artisan cheese from small outlets and not return to the supermarket habits of old!"
Joint second were Cornish Gouda for its Fenugreek Gouda and Long Clawson Dairy for Rutland Red, and third was Beacon Blue from Butlers Farmhouse.
The other finalists who won their respective categories were: Best Cheddar, Creamery Mature cheddar from Dale Farm, Northern Ireland; Best Territorial Cheese, Rutland Red from Long Clawson Dairy; Best Blue cheese, Beacon Blue from Butlers Farmhouse Cheese; Best Enhanced Cheese, Fenugreek Cornish Gouda; Best Speciality Cheese, ripe Somerset Goat's cheese from Lubborn Cheese; Best Artisan Hard Cheese, a natural rinded ewes milk cheese from Alsop & Walker; Best Artisan Soft Cheese, Renegade Monk; Consumer Class, Plaw Hatch Vintage Cheddar from Old Plaw Hatch Farm Cheddar.
Cheese and dairy consultant Sarah de Wit, co-founder of the Virtual Cheese Awards, said: "It was an amazing day and we're so grateful for everyone who supported our crazy idea to set up a virtual cheese awards back in March.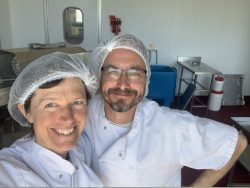 "The quality of British cheeses entered into the awards was amazing and the judges had a tough time narrowing it down to just one cheese. Renegade Monk is a very worthy winner and a fantastic example of a small artisan cheesemaker that is reinventing what a British cheese should be. We really are leading the world with our exceptional cheesemakers and we're super proud to shine a light on them. All we ask is that consumers go out and buy these cheeses and support our British cheese industry."
All profits from the event will be given to the Specialist Cheesemakers Association and RABI (Royal Agricultural Benevolent Institution) so they can continue to support British farmers and dairy producers.
It's been an exciting early summer for Marcus and his wife, Penny Nagle, who also heard recently that Renegade Monk is being stocked in three Michelin starred restaurants in the Netherlands – Restaurant Mijn Keuken in Wouw,, Restaurant Joelia in Rotterdam, and Restaurant Tribecca in Heeze; Nastrium, in Helmond, also stocking Renegade Monk, is listed in the Michelin guide. It is distributed internationally by the Bath based The Fine Cheese Co.
Marcus Fergusson says: "We love Dutch cheese, and are really thrilled that our Somerset version of an Epoisse has been taken on by these wonderful Michelin starred chefs. "
Mickael Taillier, the Fine Cheese Co's export sales account manager for Europe and Canada, describes Renegade Monk as "unusual because it is rind washed and blue which gives it depth of flavour that our restaurant customers really respond well to."
From the outset, Marcus and Penny were onto a winner, and the awards have just kept coming. In 2017, Renegade Monk won gold for best artisan soft cheese in the Global Cheese Awards, silver for best washed rind cheese in the World Cheese Awards, and was runner-up for best soft cheese in the Great British Cheese Awards. In 2018, Marcus won two golds in the Great Taste Awards, and was runner up best new cheese producer in the reat British Cheese Awards.
The 2019 roll of honour included gold for best soft cheese (small producer) in the World Cheese Awards, gold in the Taste of the West Awards, silver in the Specialist Cheesemakers Association World Cheese Awards, silver for best washed rind cheese in the Silver in the British Cheese Awards and silver in the same category at the Artisan Cheese Awards, and was Best Food Producer in the Western Daily Press Food & Farming Awards.
Pictured: Marcus and his wife Penny in the dairy.