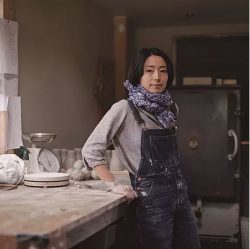 DORSET Visual Arts' Fifty Makers project continues with an exhibition at the Furleigh Estate vineyard at Salway Ash near Bridport, running until 30th March.
The aim of focusing on the range and quality of craft in Dorset artists was launched with a pop up exhibition at Wolfeton Riding House near Dorchester in July 2017.
The launch also marked the publication of a book, Fifty Dorset Makers, which showed the range and quality of the group.
The 50 artists and makers, working in disciplines including furniture, pottery, glass, textiles and printing, include Jonathan Garratt, John Makepeace, Jacy Wall, Emsie Sharp, Yo Thom, Simon Thomas Pirie, David Saltmarsh and Petter Southall.
Pictured: Yo Thom in her North Dorset pottery.