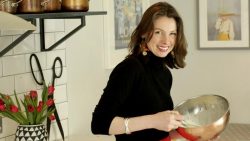 SHAFTESBURY Support Group has launched a Food Aid support service to supply food boxes for people who are in urgent need. More than 100 volunteers have joined the group, including the Shaftesbury-based private chef and food writer Philippa Davis, who is providing professional help and advice.
The support group has teams in place to meet some of the needs of local people during the crisis. The group has received more than 450 calls over the past four weeks and volunteers are working hard to deliver medication and shopping to those who need us to help them.
The Food Aid scheme has been made possible thanks to a grant of £3,000 from the Dorset Community Foundation. It will be run in partnership with Fathers House, Open House, Shaftesbury Town Council, the civic society and the Blackmore Vale Partnership.
It will operate every Thursday from 10 – noon from Fathers House, starting on Thursday 30th April. The aim is to support members of the community who have lost their income during the crisis and people in need of food supplies in the short term. For more information please ring 01747 852420.
Philippa Davis has produced a number of inspirational and healthy eating menu cards as part of the Food Aid Support Service. Each food parcel will contain the dry ingredients to make all the delicious weekly recipes and a voucher for the fresh food will form part of the support package. The voucher can be exchanged for meat and dairy at Prime Cuts and fresh produce at Abbots.
The Open House volunteer team already runs a drop-in service, offering emergency aid, benefits and housing advice, each Tuesday between 10am and noon.
Philippa will be familiar to Fine Times Recorder readers as the author of the colourful Postcard Recipes from locations as varied as Provence, Boston, Singapore and the Scottish Highlands. She contributes recipes to the BBC website and is also the food writer and recipe creator for Deepest Books (Deepest Dorset and Deepest Wiltshire).
Dorset Community Foundation is one of the beneficiaries of Deepest Dorset, which has so far raised nearly £45,000 for the three charities (including Weldmar Hospice and Dorset & Somerset Air Ambulance).
Pictured: Chef Philippa Davis.