WHEN Lisa Osman was a baby, her cot was often in her grandfather's dairy shop near Poole. Later as a young child, one of her favourite things was to eat the butter he made from his own milk.
Through her grandfather, she learned about farming, a love of country traditions and a deep understanding of the rural way of life. From her grandmother, she learned about cooking. She is a country girl through and through, loves and knows Dorset well and loves to share her knowledge of food and crafts with others.
Now one of the finest cooks in the West Country, Lisa is imparting her skills at her All Hallows School for Cooks and Makers at Wimborne St Giles in East Dorset, where she has only the sixth accredited Aga cookery school in the country.
Lisa spent two days at the AGA foundry in Coalbrookdale and learnt first hand how this iconic cooker is made from scratch. Now, in her kitchen at All Hallows Farmhouse she offers courses that range from "try before you buy" to full-day, one to one, tailor-made courses.
At the end of the course, participants take home samples from their day's cooking and a file full of useful recipes, tips and information. Lisa says: "We guarantee that you will learn how to get the most from this unique style of cookery."
Other courses with Lisa include an "Introduction to Cookery – Afternoon Tea." We can promise you that will be a treat – we enjoyed a delicious cream tea with Lisa in her beautiful garden when we met to talk about the Aga cookery school and her other plans.
In the run-up to Christmas, Lisa and her guest tutors will be offering seasonal courses including make your own edible gifts for Christmas, Christmas wreath-making and festive party flowers. Next year, she will be introducing gardening courses.
There are also exciting specialised courses with recognised national experts. There is sure to be huge interest in a residential weekend on food writing with Karen Barnes, the editor of the award-winning Delicious magazine, on 17th and 18th October.
For residential courses, participants can stay in one of the guest bedrooms at All Hallows and enjoy a delicious home-cooked breakfast.
Looking ahead to Dorset Food Week at the end of October, Lisa will be welcoming a very special guest, Anna Del Conte, the doyenne of Italian food writers, who has lived in Dorset for more than 60 years.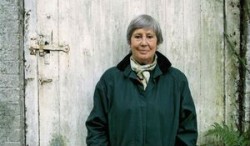 Anna visited All Hallows with Slow Food Dorset in November 2014. She will be in conversation on Tuesday 27th October, from 10.30am, while her daughter Julia demonstrates making fresh pasta – just as her mother taught her! The visit celebrates the launch of the revised edition of her first book, Anna Del Conte on Pasta.
Lisa's career began as a freelance cook, often cooking for local shoots, and in 2004 she started her catering business Provisio, which rapidly won an enviable reputation for the quality of the food and the presentation, and Lisa's commitment to seasonal and local ingredients.
Her interests and activities have broadened as her reputation has grown. She is an arbitrator (member of the senior judges) for the Guild of Fine Food's Great Taste Awards, and as an original and creative cook, is  often commissioned to write recipes for specialist food producers. You can find some of her recipes on her own website – currently including a delicious seasonal Dorset Apple Cake, "warm from the Aga."
But while she now has a national profile, particularly with the Aga cookery school, Lisa is also committed to supporting local charities and organisations. Her current collection of recipes on her website include several devised for Julia's House, the Dorset children's hospice.
She is also a long-time supporter of Screen Bites, Dorset's Food Film Festival. Last year she sponsored Screen Bites' 10th anniversary opening gala at St Giles House, the ancestral home of the Earls of Shaftesbury, preparing delicious canapes with local ingredients for the audience of 120 people. This year she will once again be at Screen Bites' opening night, on 22nd October, at Cranborne, working with Mark Hartstone of La Fosse, who helped her at the gala last year.
For more details on any of the All Hallows courses, or Anna Del Conte's visit, contact Lisa by email, cook@nullallhallowsfarmhouse.co.uk