SCREEN Bites Food Film Festival, brings films from around the world to village halls across Dorset – this year, from 13th to 28th October, from Cranborne to Wootton Fitzpaine, and from Japan to Iran via New England and India.
After the opening Fanny and Johnnie Cradock dinner theatre night, (see separate story), Screen Bites heads for Cerne Abbas on Saturday 14th, with Cooking With Stella, a dark comedy with clever twists, set in New Delhi's diplomatic community. Food and drink on the evening will include Cerne Abbas Brewery, Feed the Soul Farm Shop, Ajar Of preserves, Ansty Herd pork sausages, Chocolate Arthouse and Ivy House Honey.
Sweet Bean on Sunday 15th is a joint event with Purbeck Film Festival, at Moreton village hall. This touching Japanese film is the story of a doriyaki (sweet pancake) seller whose failing business is turned around by the skill of a strange old woman. The audience will be able to try real doriyaki from a Japanese bakery as well as treats from Moreton Tea Rooms..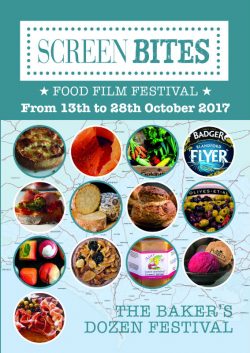 On Thursday 19th October, the festival moves to Stalbridge for Papadopolous and Sons, a feelgood film about a multi-millionaire whose business collapses and who has to go back to his roots at his family's fish and chip shop. Food on the night will include fish and chips from Something Else Fishy, Dowding's Cider and Apple Juice, Feltham's Farm Cheese, Hotch Potch Pies and The Real Cure.
There's an Apple Day theme at Durweston on Saturday 21st, when the film is Baby Boom, starring Diane Keaton as a Manhattan businesswoman with a "perfect" life who "inherits" a toddler and moves to New England to a run-down farm with an apple orchard. It also stars the late great Sam Shepherd.
The evening will include judging of a Dorset Apple Cake competition – ring Caroline Tory on 01258 452452 for more information. Food producers will include Badger beers, Gold Hill Organic Farm Shop, Cherry Picked Hampers and James's Cheese.
Chicklit, at Upwey and Broadwey Memorial Hall on Sunday 22nd, is a gentle satire on village life. Four pub regulars (including David Troughton and Miles Jupp) decide to write some mummy porn, anonymously, to raise money to save their village pub. Eileen Atkins and John Hurt are hilarious as the literary agents. Food producers at Upwey include Lizzie Baking Bird, Rolly's Brownies, Dorset Handmade preserves and Dorset Shellfish.
One of the most popular films Screen Bites has shown, Last Holiday is at Cranborne's Cecil Memorial Hall on Monday 23rd. It stars the irresistible Queen Latifah as a supermarket worker who is told she only has a few weeks to live, so she cashes in her insurance policies and flies to the European mountains to spend her last days enjoying the food of her favourite chef (Gerard Depardieu). It is a glorious celebration of the power of food to bring people together. Food and drink producers will include La Fosse, Cranborne Chase Cider, Chalke Valley Cheese, Famous Hedgehog Bakery, Cranborne Crumpets and Alix Fauvel Cakesmith.
At Leigh on Tuesday 24th there is another favourite, Bag of Rice, a treasure from Iran, about a little girl and an almost blind old lady who cross Teheran to collect the old lady's supply of rice – so simple and so beautiful. The producers include Capreolus Fine Food, Dike & Son, Easy Bean and Fordington Gin and gin-maker Ros Nelmes will give a talk.
A request from a regular Screen Biter, the Alan Bennett-penned A Private Function is at Ansty on Wednesday 25th. Starring Maggie Smith, Michael Palin, Liz Smith, Denholm Elliott and a not-always-well-behaved pig, it is a hilarious, period delight. The food comes from Ansty Herd, Ajar of, Hotch Potch Pies and more.
A Chef In Love, at Wootton Fitzpaine, on Thursday 26th, is set in Georgia as the Bolshevik revolution rolls into the independent Black Sea country where Chef Pascal Ichak creates gourmet banquets and loves a princess. Felicity's Farm Shop, with Zoe's Chocolates, and the off-grid farmers of Fivepenny Farm will be serving up all sorts of delicious food.
The penultimate evening, Friday 27th, features arguably the greatest food film of all, Babette's Feast, starring the matchless Stephane Audran as a famous 19th century Parisian chef who has fled war-torn Paris to live as a cook and servant in an austere community on the Jutland peninsula. It epitomises food as a metaphor for community sharing. Producers will include Moreton Tea Rooms, Purbeck Cider and the Watercress Company.
The finale, Saturday 28th, is at Tarrant Keyneston's Anne Biddlecombe Hall where the film is Agatha Raisin and the Quiche of Death, a comedy thriller with Ashley Jensen, Robert Bathurst and Hermione Norris and a gorgeous Cotswold setting. The food will include quiches from Lizzie Baking Bird and Christine's Puddings, and Dorset Game Larder and Miss Marshmellow, among other producers.
For bookings phone 01963 32525 and for full details visit the website www.screenbites.co.uk