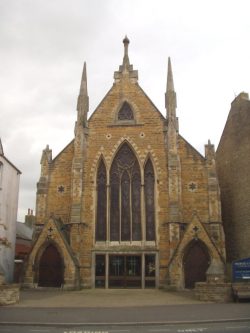 GHOSTS walk the streets of Charles Dickens' London, evoked with chilling, thrilling intensity by The Storyteller and The Musician in their new version of A Christmas Carol, at Bridport, on 2nd and 3rd December.
Adapted by writer Adam Z Robinson and performed in the company's storytelling style with live music, this production explores the gothic and ghostly aspects.
Join Ebenezer Scrooge, and a whole host of characters, as he journeys into the past, present and yet-to-come on a supernatural journey to redemption. The show manages that special Dickensian balance of cosy and hair-raising. bringing to vivid life the atmosphere of Victorian London, as the ghosts of Christmas return, through the spellbinding medium of storytelling.
Using their signature combination of a live violin score, engaging narration, recorded voices and eerie sound effects, the show transports audiences to the offices of Scrooge and Marley, the humble Cratchit household and the fearful, final resting place of that infamous miser.
This Bridport Arts Centre event will be performed in the unique atmosphere of the town's United Church (pictured).