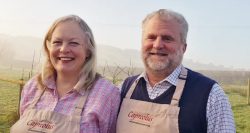 CAPREOLUS, the West Dorset-based artisan charcuterie producers, have added this year's Golden Fork for the South West to their long list of Great Taste Awards from previous years.
David and Karen Richards, who live and have their production base at Rampisham, won three gold Great Taste stars and went on to take the regional Golden Fork award for their Smoked Pancetta.
Using age-old curing techniques combined with a flair for flavour, Capreolus Fine Foods produces its range of English artisan charcuterie from locally bred and reared meat, selecting traditional and rare breeds wherever possible.
Made from free-range pork bellies, which is cured, fermented, air-dried and smoked over beech for a soft smoky flavour, the Smoked Pancetta was described as "faultless" by the Great Taste judges, who enjoyed its "sweet, meaty flavour with a good smoky background" and "wave after wave of herbs."
This year's Great Taste finals, Golden Fork awards and champions were announced over the Guild of Fine Food's social media channels and website, because of Covid-19 restrictions. The announcements were the final instalment in a Great Taste calendar that has been reinvented at every stage, in order to stimulate much-needed consumer support for independent retail and hospitality over the challenging months ahead.
This year's panel of judges included cook, writer and champion of sustainable food, Melissa Hemsley, cook, writer, stylist and voice of modern vegetarian cooking, Anna Jones, celebrated Spanish chef, José Pizarro, Kavi Thakrar from Dishoom, food writer and cook, Xanthe Clay, and food buyers from Selfridges, Fortnum & Mason and Waitrose.
The other finalists for the Golden Fork from the South West were three-star winners, Jess's Ladies Organic Double Cream from Jess's Ladies Organic Farm Milk in Hardwicke and Pink Gin Marmalade from The Artisan Kitchen in Gloucester.
The Great Taste Supreme Championship went to Redhill Farm Free Range Pork near Gainsborough in Lincolnshire for its Free Range Pork Shoulder. Other winners were: Charcuterie Product of the Year, Jamones Juan Pedro Domecq from Madrid, for its Jamon de Bellota 100% Iberico Pata Negra (which also won this award in 2014); and Golden Fork from Ireland, Ummera Smoked Products from Inchy Bridge, Co Cork for its Smoked Irish Organic Salmon.
Pictured: Karen and David Richards of Capreolus; Golden Fork winners Capreolus Smoked Pancetta and Ummera's Smoked Irish Organic Salmon.