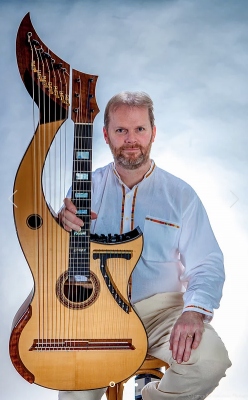 JON Pickard, who plays the rare 23-string harp-guitar as well as a more conventional guitar, will give two concerts to celebrate St Patrick's Day in Somerset churches on 15th and 16th March.
Bruton-based Jon is delighted that his videos have recently been signed by classical cable channel CMusicTV, and will be shown across more than 150 countries including the US and Canada.
Jon has been working as a professional guitarist and pianist for the past 25 years, and in the past couple of years joined the new generation of "harp-guitarists", playing the rare and ancient instrument that features any combination of fretted (guitar-like) and un-fretted (harp-like) strings, and currently experiencing a modern renaissance.
He designed and commissioned his own 23-stringed version and now composes and performs his own music, as well as other harp guitar composers' works. He also arranges music for the instrument, and will be including several favourites at the concerts, at St John the Baptist Church in Pilton on Friday 15th and All Saints in Castle Cary on Saturday 16th, both starting at 7.30.
For more details, visit his website, www.jonpickard.co.uk