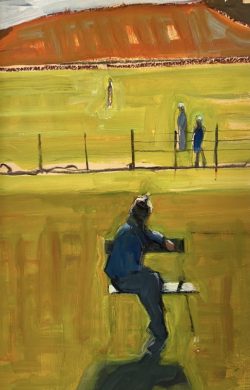 THE Art Stable, Kelly Young's excellent gallery at Gold Hill Organic Farm, Child Okeford, has two exhibitions opening in October – Repetitive Landscapes 2020, landscapes by Henrietta Young, and The Invisible Land, etchings by Alexander Massouras.
Young's paintings are characterised by acute observation of the environment where she lives, in particular the view from her garden, involving a field and maybe a horse or a dog. The mood of the works, in varying lights and atmospheres, changes with the expressive use of colour and paint, so that one senses things that have happened or are about to happen.
At the beginning of the pandemic she says she didn't feel like doing anything particularly creative, "preferring to observe and think about the new technicolour place we seemed to be living in."
But she soon felt compelled to begin this series of repetitive landscapes, "reflecting both the change in the new tempo of life as well as the faux 1950s Ladybird-coloured world I felt I was now inhabiting."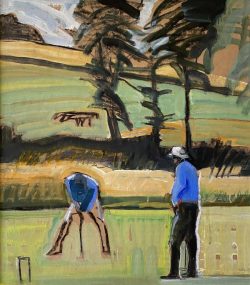 Henrietta Young trained at Winchester Art School and has lived and worked in Dorset since 1973.  She has been a prize winner in the John Player award and has exhibited regularly in the West Country and London.
The exhibition runs from 16th October to 13th November.
Alexander Massouras (b.1981) is an artist and writer who has work in UK and international collections including the Ashmolean, the British Museum, the Fitzwilliam, and the Metropolitan Museum of Art.
The Invisible Land is a group of nine etchings that describe a retreat from a flood, a series which culminates in settlement of sorts. It draws its imagery from many places: there are backgrounds glimpsed in films, references to Breugel, a found dead bird, and a nod to Wittgenstein's discussion of the Rabbit-Duck illusion.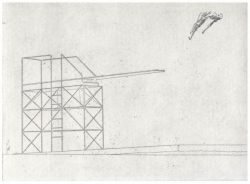 A second group, The Divers, explores the combination of line (the pools and diving platforms) with tone (the diver). They play on the symbolism of the fall and on the stillness of the image: the divers never meet the pools, a separation which finds visual form in the distance the etchings keep between line and tone.
Pictured: Two paintings by Henrietta Young and one of the Divers etchings by Alexander Massouras.