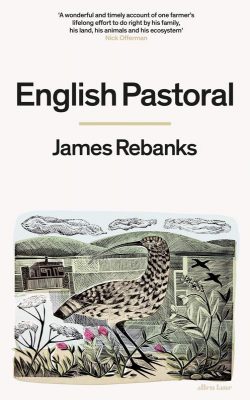 LAKE District sheep farmer and author James Rebanks makes a welcome return to Bridport Literary Festival this year, and first-time novelist Richard Osman makes his debut at the Dorset event, which is due to run from Wednesday 4th to Saturday 7th November.
BridLit director Tanya Bruce-Lockhart has been working hard to bring some much-needed light into a very dark year, with an exciting programme of author talks and interviews. It's one of only a few festivals in the country to go ahead as the Covid-19 pandemic has scuppered so many live events.
She said: "We are so looking forward to welcoming back our audiences who enjoy reading and love literature. Fingers crossed that government guidelines remain the same and we don't suffer a second spike."
James Rebanks will be at the Electric Palace on Saturday 7th November at 11am, in conversation with James Crowden, about his new book, English Pastoral: James Rebanks's grandfather taught him to work the land the old way. Their family farm in the Lake District was part of an ancient landscape: a patchwork of crops and meadows, of pastures grazed with livestock, hedgerows teeming with wildlife.
When James inherited the farm, it was barely recognisable – labourers vanished from the fields, stone barns had crumbled and the skies emptied of birds. English Pastoral tells how the countryside has been brought close to collapse. But this elegy is also a song of hope and how a farmer salvaged a legacy.
Other speakers include nature writer Raynor Winn, political writers Lord Darroch and Peter York, historian Charles Spencer and bestselling contemporary novelists Amanda Craig and Lisa Jewell.
The events will be at Bridport Arts Centre and the Electric Palace, where the seating will be configured to enable social distancing. The two venues will be used in rotation so they can be thoroughly cleaned and sanitised before and after each event.
Lord Kim Darroch, former British Ambassador to the United States resigned in July 2019 following the leak of diplomatic cables in which he was critical of the Trump administration.
His book, Collateral Damage, is a behind-the-scenes account revealing the inside story behind his resignation. His appearance at the festival, in conversation with former West Dorset MP Oliver Letwin at the Electric Palace on Saturday 7th November at 6.30pm, comes just two days after the US election.
Lisa Jewell, who is at Bridport Arts Centre on Thursday 5th at 2.30pm, has sold more than 4.5 million books worldwide. Her first novel, Ralph's Party, published in 1999, was the best-selling debut novel of the year. Since then she has published 16 novels, most recently the dark psychological thrillers The Girls and Then She Was Gone (both of which were Richard and Judy Book Club picks).
Her latest novel, Invisible Girl, is a story of secrets and injustices, and of how we look in the wrong places for the bad people while the real predators walk among us in plain sight.
Richard Osman, best known as the man with all the answers on the television quiz show Pointless, will be at the Electric Palace on Friday 6th at 4.30pm talking about The Thursday Murder Club. Set in a luxury retirement village in Kent where four residents gather to investigate crime cases, including a 'live' murder mystery, the novel was snapped up as part of a two-book deal for a seven figure sum.
The online brochure with full details of the Bridport Literary Festival programme is available at bridlit.com. Tickets can also be booked through Bridport Tourist Information Centre on 01308 424901.