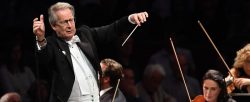 LOVERS of the music of Beethoven were deprived of one of this year's great events, when the pandemic and the resulting restrictions forced the cancellation of Sir John Eliot Gardiner's Beethoven 250 symphony cycle.
However, this week there is a treat with the Dorset-based conductor talking about Beethoven each day on BBC Radio 3's Composer of the Week series.
At noon, until Friday 20th November, John Eliot delves into the world of the great symphonies.
On Friday evening at 7pm, there will be a broadcast of Beethoven's Missa Solemnis, conducted by John Eliot, with the Orchestre Révolutionnaire et Romantique and Monteverdi Choir. It was recorded  at the 2014 Proms with soloists Lucy Crowe, Jennifer Johnston, Michael Spyres and Matthew Rose. Watch it on the Monteverdi Society's website and YouTube channel.
https://monteverdi.co.uk