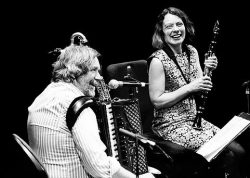 A FEW hundred yards from her home, Karen Wimhurst invites fans to hear her in her Pagoda Project manifestation at Shaftes­bury Arts Centre on Sunday 19th November from 7pm.
The virtuoso clarinettist is joined by piano accordion player Paul Hutchin­son, of Belshazzars Feast fame in the Pagoda Project, formed to evolve their fusion sound bringing together a unique blend of traditional folk music with jazz improvisation.
They performed at Dartington in the summer and Cecil Sharp House in London in October.  The Shaftesbury date is the finale of the current tour.
Visit the Pagoda Project website for a taste of the music they make, or head for Shaftesbury Arts Centre. For information telephone 01747 854321 or visit the website, www.shaftesburyartscentre.org.uk