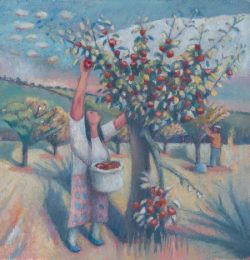 KATE Lynch, the Somerset artist who has become known as a brilliant and acute observer and recorder of rural life, traditions and crafts, has a show, with artist James Meiklejohn, at the Jerram Gallery at Sherborne, until 1st May.
Kate's paintings celebrate the seasonal life of people working the land, in orchards, on farms and in gardens. She says: "I have accompanied farmers feeding geese, pigs and hens, running sheep, tending their ewes and lambs, and collecting apples to press for cider.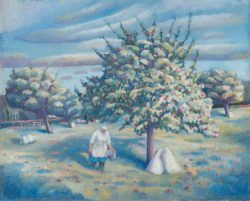 "It has also been a pleasure to draw and paint people in their gardens – a new theme. Extracts from my interviews and conversations with the people in the pictures are displayed in the gallery."
Kate's exhibitions, and books, have included cider, bee-keeping,  sheep farming, the willow industry and the traditional eel fishing on the Somerset Levels.
Pictured: Pam picking cider apples.