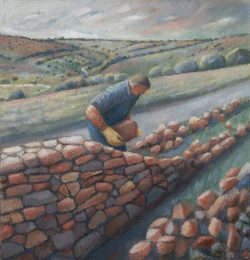 SOMERSET artist Kate Lynch, who is known for her paintings and books documenting aspects of rural life, is collaborating with the South West Heritage Trust on a new project to document and celebrate rural crafts and trades.
For many years Kate, whose husband James Lynch is a distinguished landscape painter, is known for paintings and drawings, accompanied by stories she collects, that capture aspects of life, particularly in Somerset and the West Country. Her previous projects have portrayed willow growers and basket makers, shepherds, beekeepers and peat diggers, as well as cider and cheesemakers.
In the new collection, The Old Craft in Somerset, which will be exhibited at Somerset Rural Life, Glastonbury, she is celebrating people who practise old crafts and trades using ancient skills that have hardly changed in centuries.
There are paintings and drawings of hedgelayers, dry stone wallers, thatchers, blacksmiths, farriers, basket makers, glass blowers and many more. As well as painting and drawing the artisans at work, Kate is collecting the stories they share.
She says: "In this digital age, these craftspeople all continue to work with their hands, using the same tools as their ancestors and old knowledge passed down through the generations."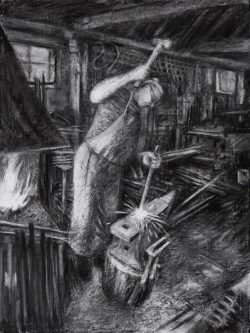 The heritage trust's head of museums, Sam Astill, says: "We're delighted to be collaborating with Kate once again to share the unique stories of the county's crafts and tradespeople."
The exhibition of The Old Craft will take place at Somerset Rural Life Museum, Glastonbury, in spring 2022. Kate has previously collaborated with the museum on school projects and her exhibition, Farm, was displayed when the museum reopened in 2017.
Pictured: Kate's pictures of Ian Whitefield, blacksmith, and Kevin Toal, dry stone waller.