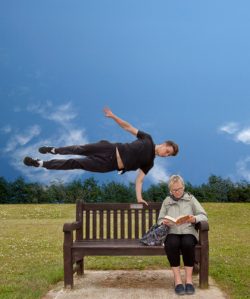 KINETICS, the film adapted from the stage play of the same name, by the Dorchester-based actor and writer Sue Wyle, is to be shown at the ReelAbilities film festival at New York.
The festival, from 26th March to 6th April, has moved entirely online, in the wake of the coronavirus pandemic and the shut-down of all arts and entertainment venues.
Kinetics, which had its premiere at Dorchester's Plaza cinema, is based on Sue's own experience of being diagnosed with Parkinson's, and the friendship that developed between her and a teenage boy who is at odds with conventional education but expresses himself through parkour (free-running).
ReelAbilities is the largest festival in the US dedicated to promoting awareness and appreciation of the lives, stories and artistic expressions of people with disabilities.
Sue Wyle says: "I'm amazed and delighted at how far we have come with Kinetics and it is so gratifying to see it open channels of communication that might not otherwise have come about."
The stage play toured to considerable critical acclaim and the film version has taken the story to a wider audience and has been used as a training and information resource for Parkinson's nurses, carers, doctors and medical students.
Rather than cancelling, the organisers of ReelAbilities decided to take the programme online. A statement from the festival says: "These stories need to be told, and creating community is as important as ever. Therefore, we will be bringing you the majority of our selected films and conversations via interactive online streaming platforms."