BATH Theatre Royal has been awarded £955,192 as part of the government's £1.57 billion Culture Recovery Fund to help face the challenges of the coronavirus pandemic and to ensure arts venues have a sustainable future.
Since closing its doors to the public in March, Bath's historic theatre is estimated to have lost more than £1.5million, with the absence of audiences for the high quality touring productions and the hugely popular summer season. The closure of the West End also hit hard as the record-breaking production of Blithe Spirit had to close just one week into its scheduled 12-week run.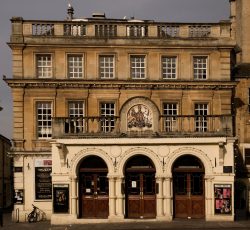 Arts Council England funding and support from Innovate UK earlier in the year ensured that The Egg could continue with some innovative provision for outreach and educational activities. This new funding will ensure that plans can continue for the socially-distanced Welcome Back Season which opens on 14th October, and to continue to plan into 2021.
Arts Council England chairman Sir Nicholas Serota said: "Theatres, museums, galleries, dance companies and music venues bring joy to people and life to our cities, towns and villages. This life-changing funding will save thousands of cultural spaces loved by local communities and international audiences. Further funding is still to be announced and we are working hard to support our sector during these challenging times."
Danny Moar, director of Theatre Royal Bath, said: "We are thrilled to receive this news, especially in the week we open our Welcome Back Season after a seven month closure. This funding will help us keep our doors open into the spring of 2021 and beyond. We are delighted that the importance of our work for the people of Bath and beyond has been recognised in this way."
The first play, Harold Pinter's Betrayal, directed by  Jonathan Church and starring Edward Bennett, Nancy Carroll, Joseph Millson and Christopher Bianchi, (see photo above) runs from Wednesday 14th to Saturday 31st October.