THREE of the leading theatres and arts centres in the region – Theatre Royal Bath, Bristol Old Vic and Poole's Lighthouse arts centre – are among more than 2,700 arts organisations to share in the latest grants from the government's Culture Recovery Fund. The awards are intended to help the culture sector to continue facing the challenges of the pandemic and to ensure it has a sustainable future.
The Theatre Royal Bath first closed its doors to the public in March 2020 when theatres shut nationwide. The theatre's record-breaking production of Blithe Spirit which had transferred to the West End was forced to close just one week into its scheduled 12 week run last spring.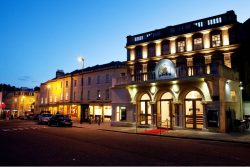 Over the past 12 months, Arts Council England funding enabled the theatre re-open for a limited time during the 2020 autumn and winter season, with 75 live performances for socially distanced audiences across its three venues – the main house, Ustinov Studio and The Egg. The new funding from the Culture Recovery Fund will ensure that plans can continue for Bath's 2021 season, due to be announced shortly.
Theatre Royal Bath director, Danny Moar, said: "We are delighted to receive this news, especially as final preparations are being made for our 2021 season. This funding will now help us to reopen our doors in 2021. We know theatregoers are keen to return and we can't wait to welcome them back to the Theatre Royal Bath in May and beyond."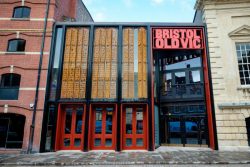 Bristol Old Vic
Bristol Old Vic has received £289,971 in this second round of the Culture Recovery Fund and will allow the historic theatre to continue its programme of online and live work through April, May and June. The award will enable the theatre to confirm contracts with freelance practitioners creating work for its programme in May, June and July, and to continue to plan for the full reopening which will reignite the creative economy.
At the core of this programme is Bristol Old Vic's ongoing digital strand of work, sitting alongside and within, the live theatre programme. Further details will be announced next week.
Since Bristol Old Vic had to close in March 2020, the organisation has consistently worked to find new ways of sharing theatre with its community and the wider world – it has completely reimagined a digital version of itself, experimented with streamed performances available globally, maintained links with the most vulnerable participants and welcomed live audiences during the brief moments when restrictions were lifted.
These projects included collaborating with Wise Children in autumn 2020 to present the enchanting musical, Romantics Anonymous, as a live stream from the theatre, reaching more than 10,000 people in a week; creating bespoke theatre shows and virtual tours for 56 schools in Bristol in spring 2021; and presenting socially distanced work in the theatre including Toby Jones: Desert Island Theatre and a series of talks for Black History Month.
Bristol Old Vic artistic director Tom Morris said:
"The government has grasped the economic arguments about culture, what it offers to the international reputation of our country and how much it can contribute to our economic recovery and we are very grateful for that understanding.
"But this investment allows us to go further.  We can now start to ask: what are the stories we should be sharing as we rebuild our society in the wake of the pandemic?  How can story-tellers and theatre-makers help us understand who we are and how we might heal the divisions which have been deepened by the pandemic?
"We need theatres for the economy.  We need them for pure entertainment.  But make no mistake, we will need artists in every artform from music to sculpture to help us understand what has happened, to reconnect and to build a better world."
Poole Lighthouse
Elspeth McBain, chief executive of Poole's Lighthouse centre for the arts, is understandably thrilled that the venue has been awarded £487,482 from the Culture Recovery Fund.
"This is the best news and undeniably significant to our recovery," she says. "It comes at a crucial time as Lighthouse looks forward to welcoming back the audiences and artists we have missed for so long.
"In line with arts venues all over the country Lighthouse paused live performance in January, but we continued our work online and with artists behind closed doors. Now, with the support of the Culture Recovery Fund, for which we are enormously grateful, we can take a giant leap forwards and prepare to do what we do best – presenting world class performance and cultural experiences and bringing people back together again. I can't wait to see artists on our stages, films in our cinema and audiences back in the venue."
The arts centre will open its doors to the public on Tuesday 18th May when the cinema, Beacon café and gallery spaces will reopen. Following the success of outdoors performances last summer, a second season of Lighthouse OUTSIDE will begin at the end of May. Until 21st June performances will be to socially distanced audiences at maximum 50 per cent of full capacity.
New for 2021, Screen On Stage will see the theatre space transformed into a cinema, enabling Lighthouse to show cultural events from nationally important arts companies as well as mainstream films in high definition on a large screen with state-of-the-art surround sound.
The arts centre hasn't stood still in lockdown, says Elspeth. "We have used our spaces creatively, welcoming artists to develop new work and expanding our digital capabilities, but this new award from the CRF is a life saver especially as we have been closed for so much longer than we ever imagined we would be.
Lyme Regis Marine
The Marine Theatre at Lyme Regis (run by Lyme Arts Community Trust) has been awarded  £104,296 in this latest round of CRF grants.
Gabby Rabbitts, the Marine director, is understandably delighted at this support for the Art Deco theatre on the seafront. She said: "This is very good news for Lyme Regis residents who like to have fun. We can't wait to open the doors and welcome back the community.
"Over the last few years, we've expanded our events so there is something for everyone. The government's fund is only awarded to viable organisations, so this grant is a recognition of that successful turnaround. The pandemic has been a punishing time for the Marine, and I thank our volunteers and staff. We've tried hard to raise money and make difficult savings."
The venue's plans include outside events in the spring, including a concert from Ivor Novello singer Scott Matthews and a family theatre show called Oh Mary. Inside events such as a visit from big-name comedian Ed Byrne are scheduled for later in the year. These big names run alongside community events such as a technical training course to help young people into arts work, a new community play, and a beer festival with local musicians as entertainment.
Over the last few years the Marine Theatre has welcomed high profile names such as Ian McKellen and Bill Bailey, while expanding community events, including an anniversary play, children's discos and its free Sunday Sessions.
Other local venues and organisations to receive grants in this round of CRF funding include Activate Dorset, (£59,428), Arnolfini Bristol (£163.149), Bath Festivals (£50,000), Bath Forum (£76,102), Bath International Comedy Festival (£35,000), Bath Philharmonia (£101,633), BEAF (Bournemouth Emerging Arts Festival), Bournemouth (£40,000), Bridport's Electric Palace (£25,000), Bridgwater Carnival (£54,117), Bristol's Boomtown Festival (£991,864), b-side Multimedia Festival, Dorset (£34.058), Circomedia, Bristol, (£170,859), visual arts group Lyme Bay Arts (£25,000), Cornwall's Miracle Theatre (£35,500), Creative Innovation Centre, Taunton (£34,254) Devon-based Paddleboat Theatre (26,232), Exeter Northcott Theatre (£91,681), Exeter Phoenix (£96,011), Forest Forge Theatre (£55,000), Frome Cheese and Grain (£47,000), Glastonbury Festivals (£900,000), Holburne Museum Bath (£136,260), Iford Arts (£117,077), Jackdaws Music Education Trust, Great Elm  near Frome (£25,474), Le Navet Bete, Devon (£73,197), Pavilion Dance South West (£99,267), Poole Harbour Festival £47,000), Poole Museums (£98,266), Princess Theatre at Burnham-on-Sea (£27,356), Seaton Gateway (£35,000), Shakespeare at the Tobacco Factory (£25,000), South West Heritage Trust, Somerset museums (£63,500), Stuff and Nonsense Theatre (£46,819), Taunton Theatre Trust, Brewhouse theatre £96,878),  Theatre Royal Plymouth (£728,000), Wimborne's Tivoli Theatre (£144,474), Tobacco Factory Theatres, Bedminster (£120,136), Wardrobe Theatre Bristol (£31,025), Wassail Theatre Company (£34,600), Watchet Live (£35,000), Watershed Trust Bristol (£215,713), Weymouth Pavilion (£145,895),  Wiltshire Creative, Salisbury Playhouse, Arts Centre and International Arts Festival (£215,552), Wise Children, theatre company Bristol (£173,598), Wren Music, folk music, Devon (£30,000).