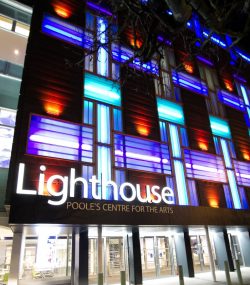 POOLE's Lighthouse centre for the arts will reopen to the public on Tuesday 15th September, six months to the day after closing in the face of the Covid-19 pandemic.
The initial reopening will be limited and restricted to the cinema, the Beacon café, ticket office and some behind-closed-doors rehearsals, courses and classes. Bournemouth Symphony Orchestra is also expected to resume rehearsals in the concert hall.
During this period Lighthouse will be developing a pop-up film studio for creating digital content for live streaming of concerts and other performances while audiences are unable to attend indoor performances.
Chief executive Elspeth McBain says: "We're thrilled and delighted to be able to welcome back even a few of our regular users to this wonderful building that we have all missed so much.
"Lighthouse has been in hibernation since March, but our small team has been working incredibly hard behind the scenes to be ready for this happy day when we can open our doors again and get the lights back on. This is just the first step and it feels like a giant leap forward, but until we get clear guidance from government it is impossible to say when we can welcome back audiences to live performances. We remain hopeful that this will be some time this year.
"In the meantime, we are doing all we can to ensure that our resident orchestra, arts partners and the community can access some if not all of our facilities."
BSO chief executive Dougie Scarfe says: "We are delighted that Lighthouse, our home venue and the place in which we create, rehearse and perform our work, is to reopen in September. This wonderful news enables the BSO to finalise plans to bring live music back to our audiences and communities who have missed us so much. I'd like to thank Elspeth McBain and her team for everything they are doing to reopen the building and Arts Council England for their support of Lighthouse through their Emergency Response Funds."
Although the building has been closed the arts centre has been delivering a range of creative content online, commissioning small pieces of work from local artists and maintaining its community engagement projects.
This month it received an emergency grant of £255,038 from Arts Council England that will keep the business afloat until the autumn but the centre management is waiting to hear details of how the government's £1.57 billion rescue package for arts and culture will apply.
"We have made our building Covid-secure and will have to operate things quite differently for now, but this first phase of reopening is a landmark moment," adds Elspeth.
An interim programme of work for the autumn will be published within the next few weeks and a decision about pantomime will follow soon after.