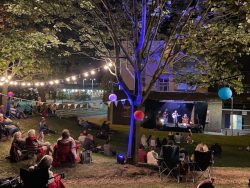 IT is "in" to be "out" at Poole's Lighthouse arts centre, where live performance returned with two capacity shows, Comedy Club 4 Kids in the afternoon, and three local bands, Live and Unheard , in the evening, both staged in the grassy amphitheatre to the side of the building.
Chief executive Elspeth McBain said it was "a real moment in history for Lighthouse – the first time the amphitheatre has been properly used as a performance space since it was built in the 1970s and the first live performances we've been able to host for six months since we closed for lockdown in March.
"We've missed our audiences immensely and it was wonderful to see so many people confidently returning, but it's our job to provide a platform for artists to present their work so it was an enormous relief to get back to doing what we do best by supporting artists doing what they do best."
The outside series continued with Britain's Got Talent finalist Ben Hart and his 2-Metre Magic and Coastal Comedy. On Saturday 3rd October, Lighthouse associate artist Lorna Rees will present her sound installation Cloudscapes, in six daytime sessions, followed in the evening by singer songwriter Olly Olsson.
Lighthouse: OUTSIDE draws to a close on 10th October with the world's first cycling theatre company, The HandleBards, performing their hilarious pedal-powered version of Romeo and Juliet, (left)  as well as a children's show, Gnora the Gnome's Daytime Disco.
Tickets for all performances need to be booked; in the event of bad weather, performances will move inside to the theatre. More information and bookings at www.lighthousepoole.co.uk.