WE can't get enough of the Tudors, can we? If you have been seduced by improbably glamorous casting for the appalling Henry VIII and endless costume dramas wafting through Montacute House and gardens, you are probably ready for the next reincarnation – Living Spit do Elizabeth I, ending its tour at The Theatre Shop at Clevedon, from 27th June to 7th July.
The daftly talented duo from North Somerset, Stu McLoughlin and Howard Coggins, are touring their own unique take on the first Elizabeth, Virgin On The Ridiculous. With live original music, silly songs, smutty shenanigans, perfunctory props, and hysterically historical horseplay, Living Spit promise another poorly researched lesson in Tudor history that you'll never forget.
1558. England. A country divided by religion and politics, teetering on the brink of civil war. The hopes of the nation lie with one woman.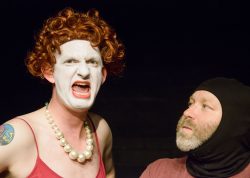 2020. England. A country divided by those who enjoy plays featuring men in dresses and those who don't. The hopes of the nation lie with two West-Country actors.
Yes, that's right. By popular demand (and the fact that they can't be bothered to write a new show) Elizabeth's back! The third of Living Spit's (un)Holy Trinity of hilarious heritage historiographies is go as Howard and Stu attempt to tell the story of the greatest monarch that ever lived – Elizabeth: The Virgin Queen.