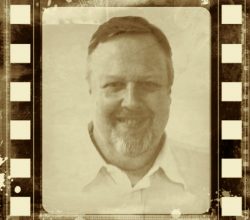 JERRY Herman's 1974 musical Mack and Mabel is the story of Mack Sennett, creator of the slapstick Keystone Cops, who kept international audiences entertained in the fading days of the silent screen, and of his lasting love for his star, Mabel Normand.
Since its opening on Broadway the show has had a checquered career, finding more lasting favour in the UK than in America.
The latest revival (and it's even on Wikipedia) is at Shaftesbury Arts Centre, where director Sophie Lester has worked with MD David Grierson and choreographers Barbara Arnold and Eleanor Dillon and a talented cast to recreate the atmosphere of those early days of movies.
Told in flashback as Sennett returns to his old studio on the eve of its redevelopment, the Shaftesbury show has flickering film, moody lighting and a design that even brings the actors in front of the 11-strong band.
How much of the story is accurate and how much fanciful is unclear, but it is certain that Mack spotted a rare talent in a young girl who delivered food from the local deli, and turned her into a star.
So the show depends on charismatic central performances, and it has them from Mark Blackham and Beth Gray. Their relationship is both poignant and doom­ed.
Mack's song I Won't Send Roses sums up his philosophy. He knows his strengths, and they are to make his audience laugh in short bursts – his two reelers ran for 20 to 30 minutes. He couldn't resist injecting comedy into his subjects, even if they should have been serious.
Mabel was convinced, by other directors who wanted her services, that her talent did not depend on Sennett's bombastic methods. His own diffidence forced him to back off from any chance of lasting romantic happiness with his beautiful young leading lady.
Both central performers have the voices, the magnetism and the pathos needed to make this show memorable.  Perhaps some of the other cast members would have benefitted from a bit of amplification, but the ensemble spirit was strong and the song and dance numbers brilliantly executed on Steve Pocock's clever set.
It is certainly one of the most accomplished musical productions by the company, and well worth a visit. There are performances at the Bell Street theatre until 21st July.
GP-W