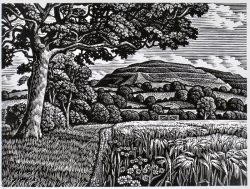 TWO new exhibitions at The Art Stable at Gold Hill Organic Farm, Child Okeford, reflect very different techniques and settings – the vivid colours and warmth of Mallorca and the timeless landscapes of Wiltshire in traditional wood engravings.
Painting the Warmth of the Sun features paintings and monotypes by husband and wife Robert and Dorothy Bradbury and Evocation of Place is wood engravings by Howard Phipps. Both exhibitions run from Saturday 5th September to Saturday 3rd October.
This is the Art Stable's second exhibition of work by Robert and Dorothy Bradbury; the previous show in 2012 was their first  in the UK.
The Bradburys met as students in 1934 at the Fine Arts School of San Francisco. Dorothy came from an upper crust Californian family, while Bob famously bummed rides on the railways during the Great Depression. They arrived in Europe in 1949 a few months after the birth of their only child, Suzanne. This voyage marked the beginnings of a love affair with Europe that culminated with the Bradburys moving permanently in 1955 to Deià, on Mallorca, which proved the perfect environment for the artists, with its rugged beauty and pine-clad coastline. 
Dorothy died at the age of 67 in 1980, but Bob continued to paint in the open air until just before his death in 2011, aged 98. Their influences included Van Gogh, Gauguin, Matisse, and Mallorcan predecessors such as Fuster Valiente. Dorothy used a technique of her own devising that straddles the border between printmaking and hand coloured mono-prints, while Bob moved towards a synthesis between the purity of Islamic art and Cezanne's concepts of natural design. 
Howard Phipps has lived near Salisbury since the mid 1990s. Much of his art is based on his observations of the downland landscape of Wiltshire and Dorset. For his third exhibition at The Art Stable he has revisited the hill forts of Eggardon and Hambledon Hill, and has developed work based on  the ramparts at Bulbarrow Hill in Dorset. He likes to observe these ancient places when the sun is low, and the light reveals the underlying sculpture of the land. He is also showing a number of his watercolours and preliminary drawings.
Howard is one of England's foremost wood engravers. His work has been has been acquired by several national and international institutions including the British Museum which holds 13 works, and most recently the Yale Centre for British Art in the USA, and the Heilongjiang Museum of Art in China.  
As a painter as well as printmaker, he has exhibited in galleries across the country, including  solo shows at Bath's Victoria Art Gallery and Dorset County Museum. He has been a frequent exhibitor at Royal Academy Summer Exhibitions since 1985, and is a Royal West of England Academician and member of the Society of Wood engravers.
Pictured: Houses, Deia, by Robert Bradbury; Hambledon Hill, wood engraving by Howard Phipps.