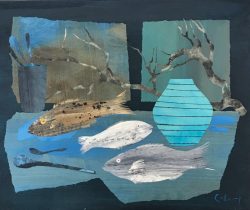 AN exhibition by Marzia Colonna is always a special event, and the Dorset-based, Italian-born sculptor and collage artist's shows at her "local" gallery are a must in the calendar.
Her current show, Autumn Abundance, at Sladers Yard, West Bay, continues to 14th November and also marks the launch of new giclee prints of her collages.
Marzia Colonna's sculpture is at the heart of her work as an artist. In his book Colour and Form, Sculpture and Collage Marzia Colonna, the late art historian Roger Berthoud wrote: "Her sculpture is based on the human form, which she uses to express what we all share as human beings. It fascinates her that wherever we come from, whatever our race or religion, we feel the same basic needs and desires.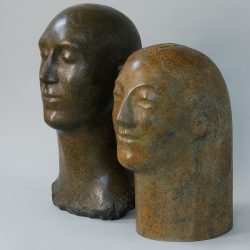 "She sees the body as the vessel of human emotion, touching in its combination of fragility and strength. Many of her bronzes, and indeed of her paper sculptures, reveal the tenderness with which she views her fellow human beings."
Marzia's collages, gloriously coloured and textured, include beautiful floral studies, dramatic landscapes and seascapes and still lifes.
Pictured: Three Fish, collage; Sculptures, The Alchemist and Head of Gaia.