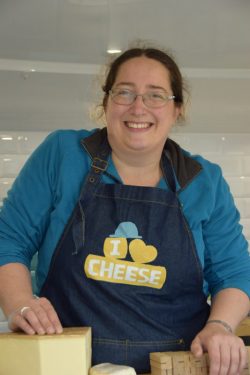 CHEESE-lovers in this area should keep a look out for this colourful little Citroen van, and make a bee-line for it the moment owner Carolyn Hopkins opens the side hatch and reveals the riches inside.
Welcome to the Truckle Truck, a cheesemonger on wheels, stacked with some of the finest cheeses of this region, the UK generally and overseas.
It's been a sad few years for local cheese fans who have lost not one but two terrific cheesemongers in the last few years – Justin Tunstall's Town Mill Cheesemonger at Lyme Regis and Charlie Turnbull's delicatessen and cafe in Shaftesbury.
But the good news is that Carolyn, who worked with Charlie for many years, picked up the mantle and the cheese board and set off to find a suitable vehicle to take the pick of the cheesemaker's art on the road around Dorset and Wiltshire (and hopefully, soon, Somerset).
"I knew I wanted to do something with cheese but shops are just too expensive" – so the search for a suitable "truckle truck" began … and ended with Susie, a refurbished Citroen H van, dating from 1969. This year is Susie's golden jubilee!
Years working with Charlie Turnbull, one of this country's most knowledgeable cheese experts, had given Carolyn a real breadth and depth of knowledge, but she also took the Guild of Fine Food's Cheese Academy Level 1 training.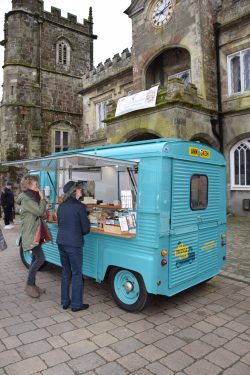 There is a list of current cheeses on her website – expect favourites and cheeseboard stars such as farmhouse cheddar (Quickes, Montgomery's or Westcombe), Dorset Blue Vinny, Wensleydale, Cornish Yarg, classic brie, taleggio, grana padano, gorgonzola, regional cheeses from France and Switzerland and more.
You can find Carolyn and Susie outside Shaftesbury Town Hall on Friday mornings, at The Rising Sun at Ludwell on the A30 on the first Monday of the month, at food fairs and festivals, including Savour the Flavour at Wincanton on Saturday 30th March, and Bradfond-on-Avon Food Festival on 1st June.
For regular updates on The Truckle Truck, and to read Carolyn's well-argued article about cheese and the dairy industry, looking at the issue of industrial v artisan, visit her website https://thetruckletruck.com/home/