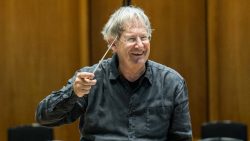 THE 700 year old thatched tithe barn, which is home to Messums Wiltshire gallery and arts venue, is often described as a "rural cathedral" and that never seemed more appropriate than for this concert by the Monteverdi Apprentices, conducted by Sir John Eliot Gardiner.
The Monteverdi Apprentice Programme is an artist development scheme that offers "a bridge between university or conservatory and the professional world," for some of the finest young singers.
Certainly, there were some thrilling voices among this group, augmented by members of the Monteverdi Choir, who were their mentors on the four-day residential workshop at Springhead, Fontmell Magna, which preceded the concert.
The programme was a showcase for the young singers, each item introduced by the conductor, who explained how they had been working on specific subjects such as language skills (the songs and choruses were in Latin, Italian, German, French, English – and broad West Country) and canons, illustrated by an exquisite piece by Haydn, Tod und Schlaf.
The music also included madrigals by Monteverdi and Faure, Schutz's Ich beschwore euch, the almost meditative Calme des Nuits by Saint-Saens, and the exciting Terror chorus from Handel's Semele (which Gardiner and his orchestra and choir will perform as the opening event of the restored Alexandra Palace Theatre in May).
The weather outside the cathedral vastness of the tithe barn was doing its worst –hail, winds and rain – but the serenity of the music took the audience to an almost heavenly plateau. It was an enthralling evening, delighting the arts centre director Johnathan Messum who was thrilled by the event and the response of the sold-out audience.
FC