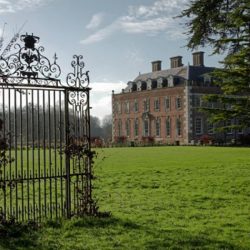 ONE of Dorset's greatest country houses will once again be the setting for a series of concerts this summer when the third Music at St Giles begins in May with a recital by the virtuoso pianist Sunwood Kim.
The concerts are a partnership between Lord Shaftesbury, who is restoring his 17th century ancestral home, St Giles House at Wimborne St Giles, and the BSO, and continues a tradition of music and music-making that goes back to the  18th century, to the 4th Earl of Shaftesbury, who was a patron of the composer Handel
Last year's concert series began with the Russian-born Israeli pianist Boris Giltburg with a dramatic all-Russian programme in early June, followed by BSO soloists playing  chamber works by Dvořàk and Schubert. In July there was an evening of English song, performed by internationally renowned British baritone Roderick Williams, and the final concert in September featured former BBC New Generation Artists, the Danish Quartet playing works by Haydn, Beethoven and Shostakovich.
Scott Jones, director of Investec Wealth & Investment, and a sponsor of the final evening said: "Lord Shaftesbury and Bournemouth Symphony Orchestra provided us with a magical evening at St. Giles. The music was of the highest calibre and set in a beautiful location. It was truly world-class."
Each concert was accompanied by a prosecco reception, canapés served in the interval and a two-course dinner served in the drawing rooms from Dorset-based award-winning Beales Gourmet.
The 2017 series will be an extended programme with five concerts featuring an outstanding line-up of world-class artists and some exclusive performances. Former BSO Artist-in-Residence and piano sensation Sunwook Kim will open the season in May with a beautiful programme featuring Beethoven's most popular piano sonata, the Moonlight.
The line-up for the season includes BBC New Generation Artists the Van Kuijk String Quartet and an exclusive opportunity to hear renowned Canadian violinist James Ehnes in his only UK performance outside London.
Booking is via the BSO – www.bsolive.com