THE Polish composer Henryk Gorecki's haunting Symphony of Sorrowful Songs is the centrepiece of a remarkable Christmas concert at Bath Abbey on Wednesday 8th December.
Charles Hazlewood will conduct his Paraorchestra, with soprano Victoria Oruwari, under the magical giant Museum of the Moon installation  by Bristol artist Luke Jerram.
The interior of the historic church has been dramatically opened up following work on the Footprint project, begun to repair the abbey's floor which was in danger of collapse
The event, presented by Bath Festival, will be performed in the round. The Symphony of Sorrowful Songs is a meditation on loss and transcendence. Paraorchestra is the world's only large scale virtuoso ensemble of professional disabled and non-disabled musicians.
The Nigerian-born soprano Victoria Oruwari has sung at international venues including the Royal Opera House and the Guildhall London. The founder of Paraorchestra, Charles Hazlewood conducts this harmonic 'spiritual minimalist' composition in the splendour of Bath Abbey.
Each of the three movements of Symphony of Sorrowful Songs features a Polish lament, including a message inscribed on the wall of a Gestapo prison cell from a teenage girl to her mother, and a mother's folk song about her son lost in the Silesian civil war. Sung in Polish, it is an astonishing work that brings both tears and joy, taking audiences on an uplifting journey through grief and solace.
The orchestra will be in the centre of the nave, with Museum of the Moon floating above them. People will be free to move around the abbey, observing and listening to the music from different perspectives.The moon is seven metres in diameter and features detailed NASA imagery on its surface.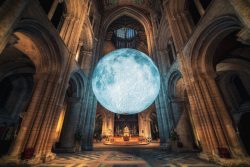 Charles Hazlewood, said: "After nearly two, pretty dreadful and anxiety-ridden years, Henryk Górecki's Symphony of Sorrowful Songs meets us in the current zeitgeist. You could say 'Well let's have some music to cheer us up, some happy music' but it's often more cathartic to experience music that mirrors our mood, not something that tries to change it.
"And what better place to share this work than Bath Abbey? Deep within this astonishing and magical space the orchestra will be placed right in the centre of the nave, in a circle, facing inwards. Like all our projects, making orchestral music accessible and presenting it in new and unexpected ways is fundamental. So, the audience will not be seated, they will be licensed – and encouraged – to roam this vast space at will. We want to give audiences deeper agency than they get watching an orchestra on a stage.
There are no designated seats for this performance, although some seating will be available and will be marked out with a 2m distance in the corporation stall and benches. Audiences can manage their own safe attendance requirements. Everyone is asked to wear a facemask (unless medically exempt) and to make space between themselves and other audience members, musicians, and staff.
For tickets and more information visit bathfestivals.org.uk
Pictured: The Museum of the Moon at Ely Cathedral. Charles Hazlewood conducting the Paraorchestra.