JOURNALIST Georgina Lawton, pictured, is the first guest on the new Non Fic Pod podcast, going out on Tuesday 16th March.
Entirely devoted to non-fiction, it has been set up by two talented women writers, Emma Byrne and Georgie Codd.  The fortnightly podcast features inspiring and interesting authors sharing their tales and tips.
Science writer Emma Byrne, author of the successful Swearing is Good for You: The Amazing Science of Bad Language, and Georgie Codd, whose first book, We Swim to the Shark, is a powerful memoir of overcoming her phobia of fish, believe that non-fiction is unfairly neglected in the pod-world.
Georgie, who last year created the world's first anti-viral virtual literary festival, BookBound2020, says: "As far as we can tell, there doesn't seem to be a single British podcast out there that's dedicated to championing non-fiction books in all their glory, or the fascinating, weird and wonderful folks who write them."
Emma, whose expertise focuses particularly on artificial intelligence and robot science, will be co-presenting the fortnightly series, in which she and Georgie will talk to a wide range of non-fiction authors.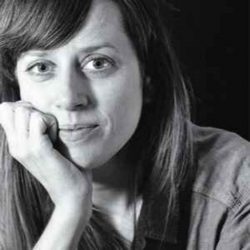 Emma and Georgie introduced themselves in the first episode on Tuesday 2nd March.  The guest on the first official NFP show on 16th March will be the journalist Georgina Lawton, author of Raceless, speaking about her upbringing as a mixed race child who was raised to ignore her skin colour – and the major fallout this caused.
Guests later on in the series include Daniel Smith (on the love letters of kings, queens and emperors), scientist Caroline Williams (on how our movements can affect how we think), comedian Rosie Wilby (whose forthcoming book is all about break-ups), the poet Suhaiymah Manzoor-Khan (AKA the Brown Hijabi), Nan Shepherd Prize -inner Nina Mingya-Powles, and the memoirist Nadia Owusu, whose bestselling book Aftershocks was recently released in the UK.
Supporters can follow the new podcast on Instagram and Twitter – the handle is @nonfiction – and can subscribe to the series. Search for 'nonfiction' wherever you get your podcasts, or visit https://shows.acast.com/nonficpod
NonFicPod will have its own online bookstore, which not only supports the podcast and the featured authors but re-routes funds back to indie booksellers: https://uk.bookshop.org/shop/nonficpod**
Pictured: Georgina Lawson, Emma Byrne (with dark hair) and Georgie Codd, and the NonFicPod logo.