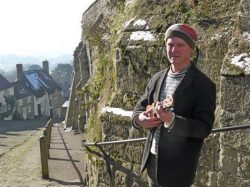 THE new school year is a great time to take up a musical instrument and the ukulele must be the most friendly instrument around, says Robin Walter, who runs ukulele classes around Dorset.
"It's cheap to buy, small in size and best played in a group. You can keep body and mind active by learning a new skill, practicing new songs and meeting up with others to make music and make new friends."
Robin, a member of the popular jazz quartet Misbehavin', has been running ukulele groups for five years now, starting in Shaftesbury, then Wimborne and more recently in Sherborne.
The sessions are split into two parts, with the first catering for complete beginners, teaching and practising the basics.
The intermediates session teaches more techniques such as strumming, fingerpicking, tune and harmony lines, as well as covering a wide repertoire of popular songs. In all classes the focus is on having fun and playing together.
The ukulele groups also perform at local events and recently they have been busy at fairs and charity fund-raising events.
"Performing is optional, but most players love to get up and have a go!" says Robin.
Wimborne classes are at The Church House at 6.45pm on Monday evening; Sherborne classes are at Tinney's Lane Community Centre at 10am on Tuesday morning; Shaftesbury classes are at the arts centre at 4.45pm on Tuesday evening. There is also a class at Salisbury Arts Centre on a Monday afternoon at 2pm. The classes start on Monday 4th and Tuesday 5th September.
See Robin's website www.theukeshack.co.uk for details of the times, prices and venues.