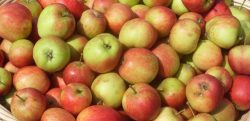 APPLE Day this year fell on Wednesday 21st October, but inevitably there were very few events or celebrations – although it's a great year for the apple harvest.
This year should have been a special celebration because it marks the 30th anniversary of the event which began as part of a campaign to save English orchards and stimulate interest in the huge range of traditional English apple and cider apple varieties. Hundreds of orchards had been grubbed up and many of the hundreds of apple varieties had been largely forgotten.
Now Apple Day is a much-loved annual event, some old orchards have been saved and many new orchards have been planted, there is a real interest in traditional apple varieties and a seemingly bottomless thirst for artisan cider.
Shaftesbury-based composer and conductor Karen Wimhurst has written a new song for the Apple Day 2020 anniversary, and has recorded it on YouTube with her North Dorset choir, Palida.
Karen wrote and arranged the music, and the recording and digital wizardry was in the expert hands of Ed Bersey.
You can listen to the new song at https://youtu.be/GwRxHn14MrQ