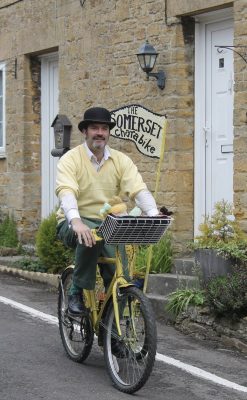 RESIDENTS of East and West Coker are the first in Somerset to enjoy the return of live theatre, as Nick White, founder-director of Wassail Theatre, gets on his bike to bring a new short play into people's gardens.
Wassail and Reveal Productions are piloting performances of Heartbeat, a ten minute one-person play, adhering to social distancing guidelines at all times.
The household can be the audience while the show is performed safely on the driveway, path or on the pavement outside the house..
Heartbeat is a story about the hunt for the heart of our community. It can be performed to an audience of people from within the same bubble. The performer will be a minimum of two metres from the audience at all times.
This pilot tour, from 12th to 18th July, is supported by the Somerset Emergency Theatre programme, which has been funded by Arts Council England.